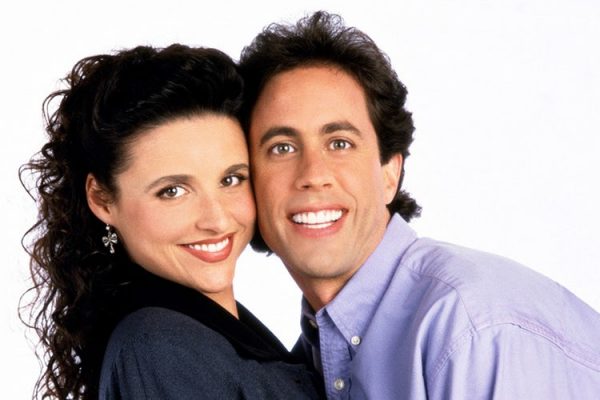 My 2018 has had a bumpy start, but rather than focus on the things that are making me blue I want to share the brilliant things that have been making me smile, and I'm going to try and do this every week!
Please share your own favourite things in the comments!

1. Liza Anne – Paranoia
This song has one of my favourite chorus melodies of recent times (the other is "Dear Life" by Beck which has the most perfect wonky guitar solo to boot) and having never heard of Liza Anne til a few days ago I'm now super excited for her new album, coming soon!

2. Angel Olsen – Not Gonna Kill You
When I'm feeling like everything's too hard I look to songs for advice. "I'm just another, alive with impossible plans" was the perfect thing to hear this week. I couldn't embed just that song but the album is wonderful.

3. Jerry Seinfeld – Netflix special *and* the entire series
I took a whole week off using my phone and social media of any kind over Christmas and New Year which was SO great, not least because it left more time for catching up on some Netflix comedy specials. Judd Apatow's (very good) led to Jerry Seinfeld's (brilliant) which led to me realising my fiance had never seen Seinfeld so we could start watching it right from the beginning. This is my second time through after watching my old flatmate's box sets back in 2006 and I'm really enjoying getting to know the characters again, Brilliant stuff.

4. Cauliflower, broccoli and chickpea stew
I've been trying out some new recipes, and this one was really gorgeous with smokey fish added (but it's vegan if you leave out the fish).

5. Moderate Rebels – "When The Cost Has No Value"
I heard this song on 6Music a few weeks ago and had to drop everything I was doing to listen. The whole album is great.

What did *you* like this week?
===
If you enjoyed this blog post, please consider supporting my independent musical project by pre-ordering my new album via PledgeMusic.
Get 5 free songs plus regular but never spammy information, gig news and treats by signing up to the mailing list.
Visit my website for photos, music videos and gig listings.
And for day to day news, thoughts and music recommendations please follow me on Twitter.