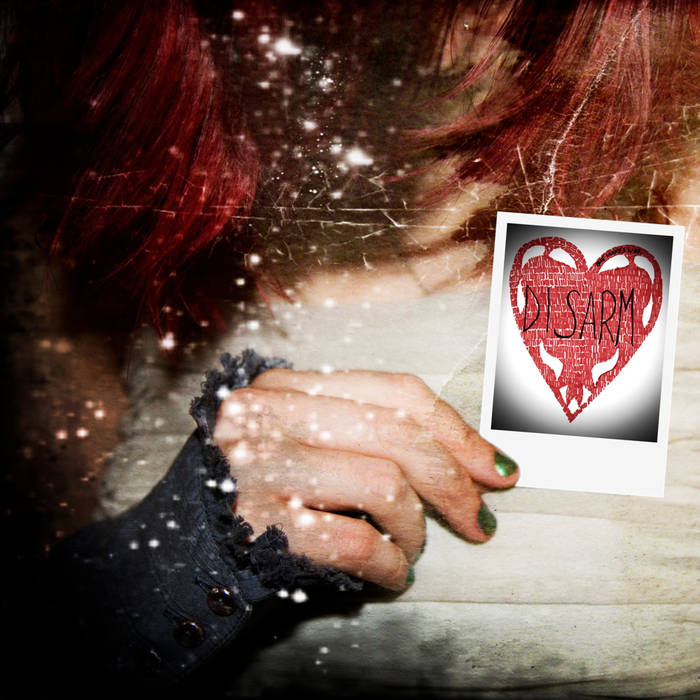 Six years ago yesterday my debut album "Disarm" was released into the world. Recorded over 17 days in the winter of 2009, the songs had taken a few years to come together, written around touring on bass and/or vocals for Tricky, Lil' Chris, The Young Punx and Alex Parks.
I celebrated the 5th anniversary with an audio commentary and a reworked EP, "Disarm:15", and I think 1st September will be a special day every year, marking as it does my first foray into sharing my own music with strangers.
My aim was simple: to make exactly the album I wanted to make, with no outside influence and no thought for who would want to listen to it. After working for artists on big labels I had no desire to compromise; I wanted to make something I was excited about, the start of what I hoped would be an impressive body of work one day. I wanted to establish my own sound and my own way of doing things, building something genuine and individual so that if industry support came along later my intentions would be clear, and I wouldn't be asked/told to change everything that made it mine.
I could never have imagined where those songs would take me. I distinctly remember writing the chorus to "Slow Puncture" in 2008, sitting on my bed in a small studio flat in Peckham with my dog Benji next to me. He was only 6 months old and howled the first time I played the guitar and sang near him. Thankfully he soon got over it! Cut from that sweet scene to an animation studio in Buenes Aires, where Valeria had gathered together 50 excited people to watch me play an acoustic set on a day off from Tricky's South American tour, or to a record shop in Osnabruck, or to Manchester Art Gallery, Lille Vega in Copenhagen, Birmingham Hare And Hounds, Shepherds Bush Empire, Kentish Town Forum, Nottingham Rock City, or any of the other hundreds of places (big and small) I've performed "Slow Puncture" over the years, supporting Gruff Rhys, tUnE-yArDs, Carina Round, The Brian Jonestown Massacre, Miles Hunt and Erica Nockalls, Suede, The Levellers, New Model Army, Midge Ure, The Magic Numbers, Duke Special, This Is The Kit, Nadine Shah, Chris Helme and Drugstore.
I'm sure there's a more eloquent quote out there for this idea, but here's my version: "If you do stuff, stuff happens". There is no big secret to any of this, you just have to DO the stuff.
In brief: I made an album with my own money and started taking it around to people by gigging, handing out cards with my website on and setting up a merch table at every show. I made hilariously cheap music videos, prioritising storytelling and emotional resonance over slick shots and dance routines. I hung out online, blogging and tweeting about the things I found interesting and, occasionally, my music. I spent time figuring out WHY I wanted to perform live – to create a unique experience for people in the room, to level with them by sharing stories, and to learn more about them by chatting at the end of the night – then started putting on my own shows and curating the lineup to be eclectic and interesting, something I'd like to watch. I hired the venues and did all the marketing myself so all the ticket money would come to me and I could pay the other acts and (after the first few, smaller, shows) any musicians who played with me. I kept costs down by travelling on Megabuses and cheap trains and sleeping on sofas. I made a second album, raising funds through Pledge Music and my wonderful, loyal supporters. Then I made a third. I stayed open to opportunities and new connections, always. Martin Hommel from German band DIN Martin emailed me asking me to support them in Bristol, then offered to book me a small German tour because he liked what I was doing. I fell in love with musical train adventures and carried on booking my own European dates by sending friendly emails out to venues. In the UK I got proactive with support slots, looking to see which touring bands were passing through soon and contacting local promoters and venues to try and get on the bill. Always staying friendly and professional, expecting nothing, but being prepared for anything. After tweet-chatting with Isabel Monteiro I got booked to support Drugstore in Norwich, after which Rick Lennox ran up to me asking for a pile of CDs to send round to people he thought would like what I was doing. That's how I ended up touring with The Levellers. After an exciting Twitter exchange with Neil Codling after I played Meltdown in Viv Albertine's band supporting Siouxsie Sioux I asked for a management contact for Suede and got booked to support them at the O2 in Bristol. DREAMS CAN COME TRUE.
You create your own luck. I made those songs with the best intentions and they kickstarted the most exciting and fulfilling period of my life so far. And it's still going.
Today marks the start of a momentous chapter in my music career – the first day of a creative sabbatical I'm taking from freelance work. I've spent the last 12 years working in video, photography and social media for a bajillion clients alongside being hired to play bass and sing for various artists, with the last 7 years centred around creating the weird and wonderful audiovisual world of She Makes War. Freelancing was always intended to support my creative endeavours, as it's potentially so flexible, but it's never really worked out that way. I'm delighted for the first time to have a team of people (namely Strata Music and The state51 Conspiracy) actively wanting me to make more music, so it's time to knuckle down and see if I can make the switch to full time artist.
I want to be someone who releases an album a year until I physically cannot, who writes regularly for themselves and others, who composes instrumental music, who feels like an artist every day. That's how I would define success, and I'm excited to start working towards it.
But this is not one of those "be like me – quit your job on a whim so you can spend your days weaving hemp or decorating cupcakes or whatever the hell you like – you can do it!" blog posts. I don't believe you should waste your life doing things that make you unhappy, but I'm not a life coach and I'm not saying you should copy me. It's taken me YEARS to get to this point and I'm not a dummy – I've saved up some pennies to tide me over for a few months, I still have a spot of casual work for a great employer and I don't use credit cards!
I've always prided myself on self sufficiency in all areas – and I've spoken many times about my belief that the world doesn't owe me a living based on whatever the fuck music I want to make. When people ask after shows whether I do this full time I've always proudly said "no" and explained that doesn't mean I'm a failure. Commercial music vs art music means a whole set of different choices, and while my music isn't intended to be obscure, it certainly doesn't fall into the Radio 1 pop universe. I've never had a problem with the mindset of juggling paid work and music making, especially as over time I made sure my paid work was interesting and for nice people.
You see, I also never wanted to be one of *those* musicians, overstaying their welcomes on friends' sofas, relying on their current squeeze for loans, living up to the waster stereotype. In my experience, people who have all the time in the world to do something aren't as productive as busy people, but I always took that to the extreme and felt like I was never going to get enough work done to reward myself with creative time. Since I finished making "Direction Of Travel" in March 2015 I have only recorded one chorus and one synth part for the new album (though I have played 93 gigs, written and performed (14 times) a one-woman Edinburgh show, made the "Disarm:15" EP, made three music videos, trained a puppy and kept a roof my head, so it's not like I was doing NOTHING). Something had to give – I don't want album 4 to come out in 2025!
I tried to start making this album in June, then promply broke my foot. I thought being incapacitated would be good for writing, but as it was I still had all my freelancing to do and was physically and mentally exhausted and in pain the rest of the time. Instead of making music I indulged my burgeoning interest in drawing and scrapbooking, playing with Midori Travelers Notebooks, knitting squares for a winter blanket, learning how to use the Bullet Journal system and watching Gilmore Girls from the beginning. My time wasn't wasted, but still no music was made!
Now I'm back getting back on my feet, slowly, working on strengthening my poorly foot so that one day walking won't hurt any more, so that one day (at least 6 months away) I might be able to go for a jog again – and my uppermost thought is ALBUM ALBUM ALBUM.
It has a title, of course (no I won't share), and a heap of voice memo snippets for me to play around with. It has its own whiteboard (essential). The chorus I wrote before my accident makes me well up a bit every time I listen to it (a very good sign). My home studio is set up around a Maschine MkII, an OP-1 and a Juno Gi, my poorly Les Paul is being fixed up this weekend and the piano I bought for £80 off Gumtree is adorned with family photographs, patiently awaiting my attention. All the ingredients are ready, and so am I.
When I look back over the last 6 years I marvel at where those songs written on a bed in a small, overpriced South London flat have brought me. I wouldn't be happily living in Bristol without those songs, sharing my life with a wonderful man and two adorable dogs, preparing to embark on a fresh musical adventure, writing to YOU.
I don't want to regret not giving this a proper go.
Thank you for reading. I'm going to be blogging a lot more regularly now I actually have time, so please feel free to ask questions or suggest topics in the comments!
===
If you enjoyed this blog post, please consider supporting my independent musical project by grabbing some music here.
Get 5 free songs plus regular but never spammy information, gig news and treats by signing up to the mailing list.
Visit my website for photos, music videos and gig listings.
And for day to day news, thoughts and music recommendations please follow me on Twitter.
xo