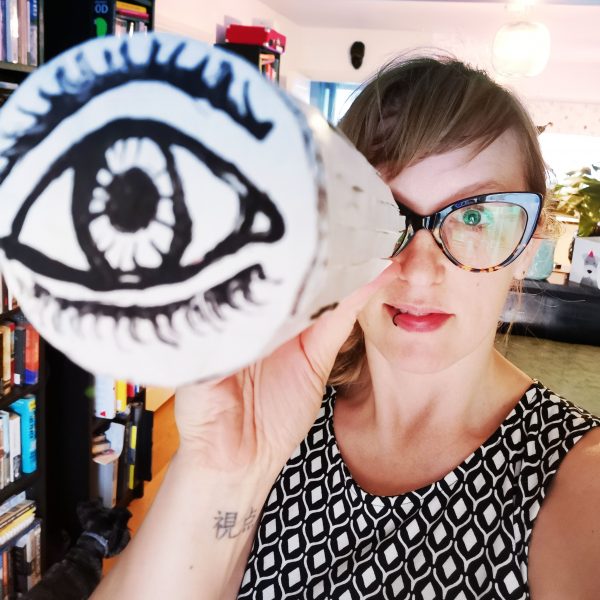 ONLINE GIG ALERT – I'll be performing two brand new songs online next Wednesday 25th March at 10am (UK time) as part of the Stay At Home Festival by Cosmic Shambles, on a bill with Robin Ince, Josie Long, Jo Brand and Luke Wright. The link to watch will be on this page at 9am that day, and there are shows happening every day next week so check out the schedule for some treats!
===
In my house, there's usually barely enough food in the fridge to scrape together one proper meal and maybe half of something really weird, so it was strange doing a "proper shop" last weekend.

Tim and I went to Aylesbury on Saturday to see Frank Turner play, and before the show Frank gave very generously of his time for my upcoming podcast series. We talked for more than an hour about writing songs, the bravado of touring, Bruce Springsteen, homemade cheesecake and Twitter arseholes, and it was a treat to watch him perform a cathartic 21 song solo set to a devoted audience in the beautiful Waterside Theatre.
It seems surreal now, to have been out and about so recently without much of a care. I remember being rattled by the emptiness of the M4 on Saturday afternoon as we drove over from Bristol, joking with a man in the service station WH Smith about how I hoped we wouldn't see any zombies walking down the middle of the road. We stopped in to see some friends on the way home on Sunday, hugging hello and goodbye as normal, talking about how weird everything was and how obscene it felt to be going about our online music businesses when there were much bigger things going on in the world (but, aren't there always?). I had a nice time drawing unicorns with Clementine, aged 4, and we stopped off at an Oxfordshire Aldi for the aforementioned "proper shop".
It's so easy to forget how much we take for granted in our pampered lives. We turn a tap and water comes out. We flick a switch and the light comes on. We go to the shop and buy the basics. Life has become less simple, really fucking fast.
In my entire lifetime I've never seen a supermarket shelf emptied by fear, but I saw several that afternoon. It was jarring. Yes, I'd heard this was happening, but it's easy to dismiss online chat as careless gossip or exaggeration.
At the time of writing there are no eggs to be had in my villagey part of North West Bristol, but our next door neighbours had some spare the other day and kindly shared. Brown basmati rice is still plentiful, but pasta is a rumour. Tim and I are working out a new system now neither of us want to go inside a shop, but click and collect slots are like fairydust. I'll keep braving the Post Office, mostly because I get to have a chat and a laugh with the nice people there who have sent out thousands of packages to you lovely lot in the past 18 months, but apart from that and thrice daily dog walks, I'm staying in.
It's not a big change for me, day to day – I've been working from home on and off for 16 years and became a full time music making hermit last February – but the backdrop of existential horror is brand new. Before, I chose to spend all day in my studio writing and reading and studying and adminning, with occasional forays into the world when I needed to be around the three dimensional people. It's quite different to have your world made smaller by external forces.
I know many of you will be making the transition to working from home, which is why on Monday I made my back catalogue available in instrumental form on a free / PWYW basis. Work has suddenly become very uncertain not only for freelance artists like me, but for salaried folks, too. I want to help in the only way I can really, by providing friendship and music.
Massive thanks to Bandcamp for waiving their cut of all sales today, I'm happy to pass that onto you with a 20% off code for anything in my shop – just enter lovenotwar at checkout.
After moving from the eyebrow-raised-yeah-right phase and passing quickly through fear / anger, incredulousness and denial, on Wednesday I found myself sitting uselessly at my computer, reading too much and holding back floods of tears. It was all just too big for me to handle, all of a sudden, and there was nothing I could do about any of it. Eventually I let the tears come out and wondered why I'd tried to hold them back in the first place.
Having checked with some of my more sensitive friends since, I've learned it's not unusual to be bursting into tears, feeling useless or even nauseous about these unprecedented world events – and don't let anyone tell you otherwise. Whatever your emotional response at the moment, it's valid.
One of the weirdest things about all this is that every single person is going through it. I can't think of any other time that's been the case. It's important to take time to try and understand where people are coming from now more than ever, but it's also ok to put your (reasonable) needs first.
People show their true colours in stressful, emotional times and I'm trying to stay away from social media feeds again at the moment, trying to allow all the things I do to stay on an even emotional keel outside of a global pandemic to work. I've found the days when I've given myself the opportunity to go for a run, do some yoga, meditate and write my Morning Pages feel much easier to handle. This morning I even wrote a song, which I'm going to record when I've posted this letter off to you. Yes, it's about what's going on – how could it not be?! – but I'm choosing to try and focus on hope.
I'm not willing to down tools and stare at a screen, waiting to find out what's possible according to whoever is speaking at that moment. I'm not going to sit around imagining the very worst and pontificating on the inevitability of that bleak result.
I choose hope, and music, and human connections, and love, and laughing at South Park at lunchtime, and cuddling my dogs, and smiling at all my neighbours, and making friends with 4 year olds, and checking in on Dot at number 12, and signing up as a local volunteer, and collaborating with a great designer on a logo for the new project, and planning at-home video shoots, and working on my podcast series, and getting as much fresh air as I can, and writing to you. What else is any of this pampered freedom for?
So, tell me – what's the best thing that happened to you this week? As always, feel free to email if you aren't comfortable writing in the comments.
My Artist's Way guru Julia Cameron wisely said "We always do the best we can by the light we have to see by".
Let's be the light.
LOVE,
Laura xxx
====
If you enjoyed this blog post, please grab 5 free songs here and join my friendly online community. She Makes War is ending, but I'll be launching a brand new and exciting thing to mailing list subscribers first. Join ussssss!
Want to listen to more of my music? I have a back catalogue to explore here.
I'm on Twitter, Instagram and Facebook, but I'd rather write to you more personally.
Thank you for supporting the making of new music.