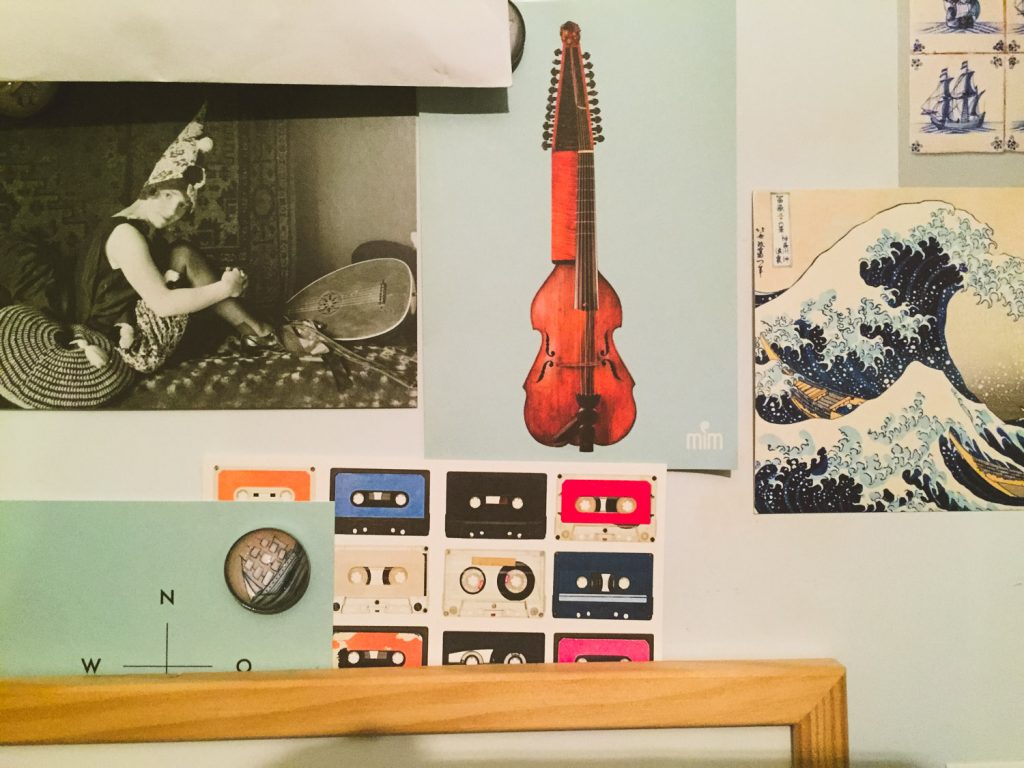 Scroll down for the photo gallery and stay up to date on Twitter, Instagram and Facebook.
What I did
+ Wrote a new song in the early days of January which has become one of my favourites for the new record, and perhaps ever. This brings the total album contender tally up to 7. Getting there!
+ Took a photo every day as part of a new 365 project, but haven't got round to editing them or uploading them anywhere yet.
+ Tried to do some kind of visual art every day – iPad drawing, art journal painting and the like. I found this very good for my headspace, working at new skills and starting to make things I like is very pleasing plus it galvanised me in my music making.
+ Attended my first Musicians Union meeting as a member of the South West Committee. Felt proud to be getting more involved.
+ Went to see "The Great Dictator" at Colston Hall with the wonderful Robin Ince and Grace Petrie giving rousing performances before the film started. What's more, I got to sit next to Barry Cryer and one row back from his pal Ian Lavender *and* shook the hand of the legendary Neil Innes afterwards. What a night! I highly recommend the film, it's equal parts bonkers-ridiculous and incredibly moving and scarily relevant to our times.
+ Got up super early 5 days a week to do DDP Yoga. The foot I broke last June had been feeling sore and blocky throughout December which led to all sorts of aches and pains in my back, neck and shoulders (and hence some sessions with a chiropractor), so I decided to go hard style with the yoga to loosen everything up and gain strength and flexibility again. It worked with almost immediate effect, and by week 3 it was possible to forget I'd ever had an accident. Long may this feeling continue! I even felt strong enough to start HIIT sessions on YouTube with Ya Boy Mill Hoy – highly recommended.
+ Got chosen to go on a very special, very exciting musical adventure in the summer – more on this soon!
+ Took a massive bag of change I'd been saving up for YEARS to the Coinstar machine in my local supermarket (it was SUPER heavy so I got to use my newly created muscles). I love ticking annoying things like this off my list.
+ Started thinking about new tattoos. It's time!
---

What I listened to – listen on Spotify (and follow me!)
+ New Jesca Hoop songs "Memories Are Now" and "The Lost Sky" from her incredible new record. A truly unique and inspiring artist who I've been listening to for years.
+ Sylvan Esso – "Kick Jump Twist". LOVED the first album and now I'm really looking forward to the new one.
+ Jarvis Cocker – "Music From 'Likely Stories'". I happened upon this after listening to the new JC collab with Chilly Gonzales, which is also gorgeous, and now I'm obsessed with finding the TV mini-series 'Likely Stories' written by the infinitely brilliant Neil Gaiman. Any pointers gratefully received, I can't find it to (legally) stream anywhere.
+ Deep Throat Choir – "Be OK". An accidental find, and the first time Soundcloud autoplay has ever turned up something I really liked (I usually have to slam it off immediately).
---

What I read
"The Road Beneath My Feet" – Frank Turner. Like his music or not, he's an inspiration to many independent musicians and I was hoping this book would contain more on the myriad of elements that must make up the man and his hard earned success. I grew a bit tired of all the post-gig exploits, but it was an interesting read nevertheless.
I was given some brilliant books for Christmas so I dipped into each of these:
+ "Digging Up Mother: A Love Story" – Doug Stanhope – deliciously dark autobiography.
+ "Content Provider: Selected Short Prose Pieces, 2011-2016" – Stewart Lee – love love love him.
+ "Messages From The Sea: Letters and Notes from a Lost Era Found in Bottles and on Beaches Around the World" – this is an album waiting to happen!
---

What I watched
+ new episodes of Vikings Season 4 – Ragnar, nooooo!!
+ The OA – grippingly great.
+ "River" – a detective show with a clever twist that had me in tears at the end (I am a cryer though, don't let that put you off).
+ "Burn Burn Burn" – ace British road movie with a musical soundtrack from Oxfordian friends Candy Says.
+ "Minimalism: A Documentary About The Important Things" – very thought provoking. I'm certainly not someone who constantly wants to buy stuff to fill a void, but this was an interesting watch and made me want to tidy up my house, which is always a good thing.
---

What I Saw – click to view the full images
===
If you enjoyed this blog post, please consider supporting my independent musical project by grabbing some music here.
Get 5 free songs plus regular but never spammy information, gig news and treats by signing up to the mailing list.
Visit my website for photos, music videos and gig listings.
And for day to day news, thoughts and music recommendations please follow me on Twitter.
xo