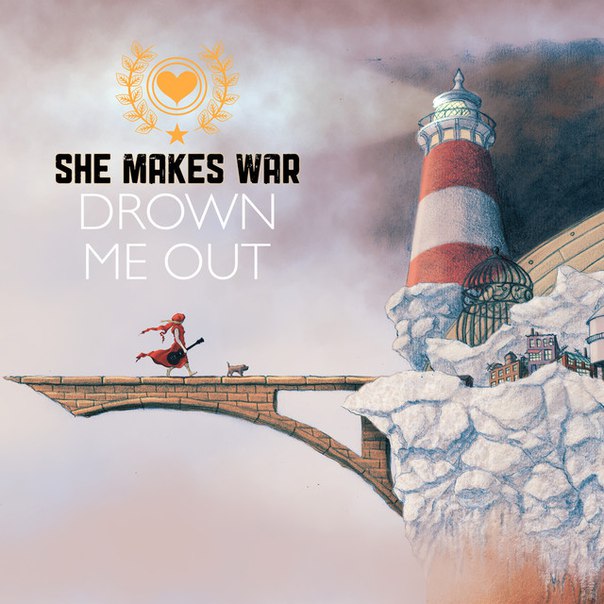 Watch the "Drown Me Out" video here.
"Drown Me Out" is led by swaggering rhythms and gigantic, almost symphonic percussion. Over the top of this grand bedrock is a layer of needly riffs and gossamer-light vocals – this track is as dark and emotional as you'd expect from She Makes War, but there's a greater weight behind it that delivers a knockout blow.
~ Laurence Day, The Line Of Best Fit.
"Drown Me Out", her latest single, is a storm front and an anthem, stirring the air as it passes with a strange and magnetic energy while hounds and winds howl. It is stunning.
CREDITS
Produced by Laura Kidd.
Mixed by Dan Austin.
Mastered by Dick Beetham at 360 Mastering, Hastings.
Engineered by TJ Allen at Station 7, J&J Studios.
Artwork and design by Alex Bertram-Powell.
Music and lyrics by Laura Kidd.
All instruments by Laura Kidd except drums by Andy Sutor.
LYRICS © Laura Kidd
Drown Me Out
We're not safe here now, I have burned the lighthouse down
You're not good for me
Diving dreams to sea, but the rocks have stopped me
They're not friendly
Would you fall asleep so I can't reach you?
Would you turn away so I can't touch you?
Forfeit myself - drown me, drown me out
Sick of silence - drown me, drown me out
I'm not sorry - drown me, drown me out
Kisses smother me - drown me out
Darkness take me soon
Water suck me under - it's my escape from you
Would you fall asleep so I can't reach you
Would you turn away so I can't touch you
Forfeit myself - drown me, drown me out
Sick of silence - drown me, drown me out
I'm not sorry - drown me, drown me out
Kisses smother me
So you're throwing a rope
Cos your victim is overboard
But I'm looking for something wonderful
To keep me in this lifeboat
Would you fall asleep so I can't reach you
Would you turn away so I can't touch you
Forfeit myself - drown me, drown me out
I'm not sorry - drown me, drown me out
Sadness suffocate - drown me, drown me out
Sick of silence, sick of myself
Drown me out