On Friday night I had the great honour of being part of a bill of astronauts, comedians, scientists and musicians for Brian Cox and Robin Ince's Christmas Compendium of Reason at Hammersmith Apollo. WHAAAAAT?
When I wrote my song "Stargazing" in 2014 at the end of a series of heartbreaks, bereavements and disappointments, I could never have imagined it would be my passport to that grand stage. Who could have guessed that one day I'd get to play the song I wrote with tears in my eyes in my house in Knowle West, Bristol with the backing of the insanely talented Musical Director/arranger/trumpeter extraordinaire Steve Pretty and the Hackney Colliery Band for a special one-off performance? Not me!
It was an absolute dream from start to finish, and as I know Robin happened across the "Stargazing" video on a YouTube browse-a-thon last year the first person I have to thank for making Friday happen is Mr Tim Berners-Lee. The internet can be a hateful place at times, but everything brilliant that has happened around my music has happened because of it, and for that I will be forever grateful.
I drove to London from Bristol on Friday afternoon and after getting stuck in some truly nasty traffic (no, really? In London? On a Friday?), had time for just one run through with Steve and the band before the doors opened. I'd already sent them the original string scores written by Andrew Skeet (Divine Comedy) and as I stood on that big stage gazing out at 3500 empty seats playing through the song I was pleased they translated so well to brass instruments. Then, when the instrumental section hit, such a brilliant explosion of sound erupted from the band that I had to make myself keep playing, I was so amazed and delighted at where they'd taken the song. It was mega! Such a treat, thank you guys.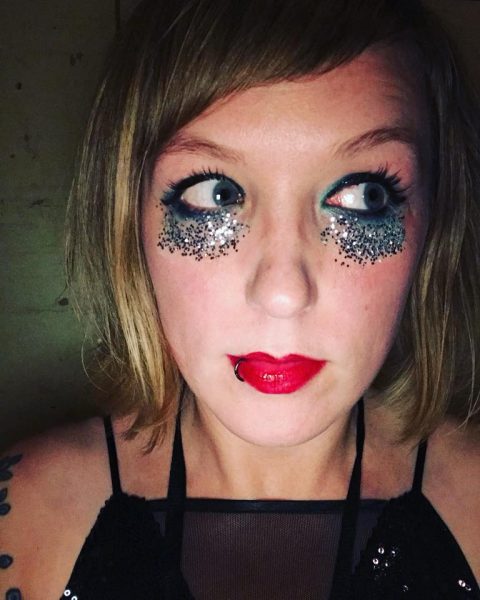 And so to the backstage where I wandered a maze of corridors to find a dressing room where I could adorn myself with enough sequins and glitter to match the song and the occasion. Being part of such a long bill of performers meant I got to enjoy those crazy few minutes on stage and then revel in the rest of the show, knowing I'd done my bit, and my best, already. It really was a brilliant night of brain food and entertainment, and the highlights for me were Stewart Lee, Jo Brand, Dara O'Briain, a very glittery Sophie Ellis-Bextor, astronauts Chris Hadfield and Terry Virts, Lucy Cooke and Festival of the Spoken Nerd.
Other fun moments included standing between Jo Brand and a bin at side of stage before and after she performed – she took my compliment of "you're wonderful" very sweetly – snaffling a pile of cheese and crackers watched by the two esteemed astronauts (I didn't think eating cheese just before singing one of my highest songs was a good plan so I made up for lost time later) and sitting in the audience internally screaming "Nooooooo, why did I come and sit out here?!!!" when Stewart came on stage because I'd have loved to stand between *him* and a bin at the side of stage too, as he's such a hero of mine. As it was, it was far better to witness his utterly perfect, ever-divisive, clever yet seemingly shambolic performance from the front and I've already bothered him after two of his Edinburgh Fringe shows so he already knows I find him very inspiring and brilliant and probably doesn't need to be told yet again.
Nights like Friday don't happen by magic and are a culmination of so many things – the song itself, hard work, perseverance, visibility, random chance encounters, more hard work, more perseverance – but it's just such a joy to get that boost of encouragement from artists and performers I so admire. I had a wonderful, wonderful time, everyone was super cool and now I'm determined to go back to the Apollo some time and play a set with my band.
If you were there, thank you for being so welcoming! If you weren't, thank you for reading!
The other big news at the moment is that I'm crowdfunding my fourth album, so you can pre-order the music now along with exciting exclusives including album launch gig tickets, a magical mystery music subscription, CDs, vinyl, cassettes, demos and rarities, musical instruments and more.
Thank you for your support, it means so much to me.
Laura xoxo
===
If you enjoyed this blog post, please consider supporting my independent musical project by pre-ordering my new album via PledgeMusic.
Get 5 free songs plus regular but never spammy information, gig news and treats by signing up to the mailing list.
Visit my website for photos, music videos and gig listings.
And for day to day news, thoughts and music recommendations please follow me on Twitter.
SaveSave
SaveSave