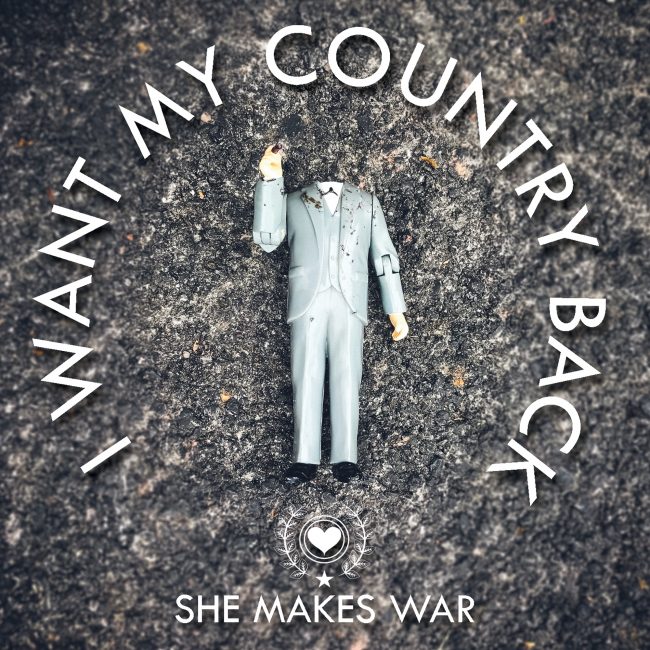 "I Want My Country Back" is a roar of defiance and a heartfelt plea to my fellow British citizens to unite against the deafening rhetoric of the other peddled in the mainstream press.
I'm so tired of the racist, xenophobic nonsense we're pelted with daily, particularly in relation to the international refugee crisis and immigration in general. The song's title and chorus twist the phrases we've heard so much in recent times away from the right wing, send-them-all-home mentality towards encouraging people to have compassion for those from other backgrounds, and to consider sharing the great privileges we enjoy just by accidentally being born in this country.
Laura Kidd – She Makes War
Bristol, May 2017
Produced by Laura Kidd, engineered & mixed by Dan Austin.
All instruments by Laura Kidd except drums by Dan Whitfield.
Recorded at J&J Studios, Bristol.
LYRICS © Laura Kidd
I Want My Country Back
I want my country back
From unelected liars, hypocrites and sleazy hacks
I want my country back
Their irresponsible, delusional agenda makes me MAD
So let's "make Britain great"
Get your fake news from the Daily Hate
Close your eyes, let them feed you to the wolves
You deserve it
I want my country back
But they're crying over something that we never had
Compassion's not a fad
When you're running for your life you'll wish we still banned hunting
All the years that I've lived in England
I've never felt so ashamed
So let's "make Britain great"
Get your fake news from the Daily Hate
Close your eyes, let them feed you to the wolves
You deserve it
I want my country back
Stop blaming refugees and immigrants for what you lack
They're taking all the flak
While the Tories cut the NHS - let's give them a slow clap
If you believe that all Muslims are terrorists you deserve to have your job stolen from you
So let's "make Britain great"
Get your fake news from the Daily Hate
Close your eyes, let them feed you to the wolves
So let's "make Britain great"
Get your fake statistics from the Daily Hate
Close your eyes, cos I've had enough of you
You deserve it