One magical day in late 2016 I saw that comedian, broadcaster and author Robin Ince had tweeted a link to my "Stargazing" video. To say I was surprised would be an understatement. After a nice chat back and forth, he started offering me guest slots at some of the massive events he puts on as part of the Cosmic Shambles network, often with Professor Brian Cox and a whole host of luminaries from the science and entertainment worlds. I said YES whenever I was able to, and was thrilled to perform "Stargazing" at Hammersmith Apollo (read more here) and Royal Albert Hall and some other songs at the annual Nine Lessons events ( in fact, my last EVER SMW appearance will be at King's Place on 21st December), at Tobacco Factory in Bristol and 81 Renshaw in Liverpool.
When Robin called me earlier this year to invite me on tour with him I tried not to shout YES PLEASE OKAY down the phone at him, but I did do a little dance around the room after we'd agreed I'd do it. Suddenly I find myself halfway through the tour with a little bit of time to sum up my experiences so far, so read on…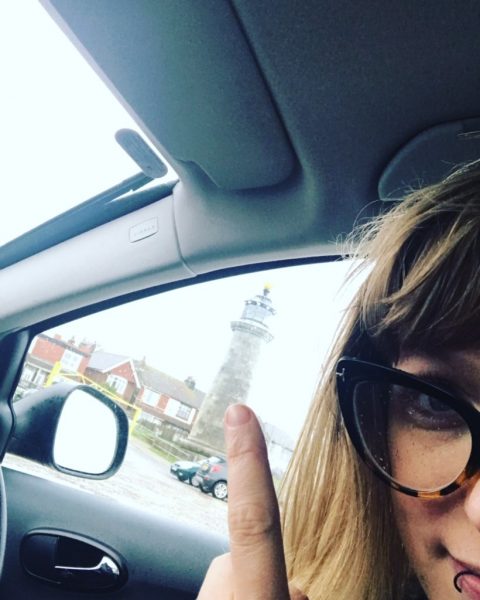 Saturday 2nd November – Ropetackle Arts Centre, Shoreham-by-Sea
Windy and rainy out. I drive from Bristol to Shoreham-by-Sea listening to podcasts (Loud And Quiet interviewing my old boss Viv Albertine and then several episodes of Andy J Pizza's Creative Pep Talk). One stop for a loo break and a breather. I check in on Robin's journey – he's having train trouble coming from Penzance (VERY FAR!) but amazingly arrives at the venue by quarter past 5. I salute him (metaphorically).
I'm already there, setting up my little corner of the stage and trying not to breathe on anyone. Since finishing my co-headline tour around the UK with Skating Polly two weeks ago I've been struggling with low energy and then a sudden cold, but I'm unwilling to cancel any shows despite my voice being central to my stage output. The show must go on! I buy a stash of herbal tea and cough sweets after securing a sweet, free, parking space right near the venue, then chain Jakemans lozenges right up to the moment Robin introduces me.
Playing to a polite, seated audience is a great relief. My show doesn't feel under my control, I have to furtively sip lemon and ginger tea between songs and I don't know what noises will come out of my mouth, but at least no-one looks like they're about to start a fight like they did at my last gig. Seated theatre / arts centre audiences feel different to standing crowds in music venues, and I appreciate the calmness and lack of cameras tonight.
"This was the Tom Waits version of my set, thanks for listening" I quip as I head into my last song of the evening, "Scared To Capsize". "The last time I played this song I had to stop to defuse a potential fight", I add. "Is anyone feeling like they want to have a fight? No? Great".
No fights in Shoreham-by-Sea, plus a most excellent lighthouse sighting. Thank you Joanne for the cosy guest bedroom in Brighton afterwards – you have an excellent cat.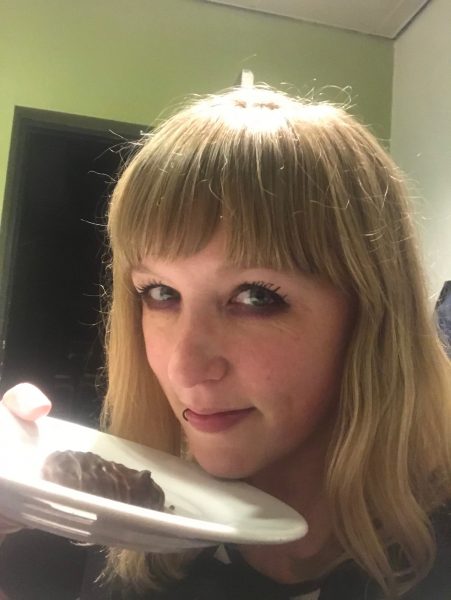 Wednesday 6th November – Exeter Phoenix
I wake with unusual plans for a day of lounging about before leaving for the gig, rather than my usual cram-as-much-in-as-possible routine. Late morning, idly checking my email, I spy a chilling statement informing me the MOT on my car ran out yesterday and it's now illegal to drive. With 155.2 miles to cover and a tour pal to not leave stranded in Devon, I scramble to find somewhere to fit us in for a test and, against all the odds, I secure an appointment – but not until 2.30, and it's not local. When I arrive at the testing centre, I'm informed the 45 minute wait I'd expected is actually 2 hours, and the panic on my face as I try to politely explain I need to get to Exeter by a certain time without putting undue pressure on the people kind enough to squeeze me into their day after my own bad planning must be palpable, because the MOT is done in an hour and a half, and they even do a temporary (complimentary) fix on something that would have caused the car to fail. THANK YOU.
I'm very uncomfortable being late, and though Robin and Rick, the sound engineer, are absolutely lovely about it, I'm relieved when I'm set up and soundchecked and can have a bit of time to sit backstage and exhale. I consume a small dinner of chocolate biscuits as there's no time for anything else, and the gig goes really well. My voice is much improved since Shoreham, and it's delightful to play to another pin drop quiet listening audience and meet some of them afterwards.
Heading back to Bristol via road diversions, we stop for snacks at one of the most desolate service stations I've ever visited. The man at WH Smiths is so excited to chat that I assume my famous friend has been rumbled, but when we drive back towards the motorway, passing a gleaming, well stocked Deli 2 Go, we realise he might just have been a bit lonely. Robin introduces me to the wonderful world of Walkers Mix Ups and the night ends with my dogs barking a welcome at him as we get in the house.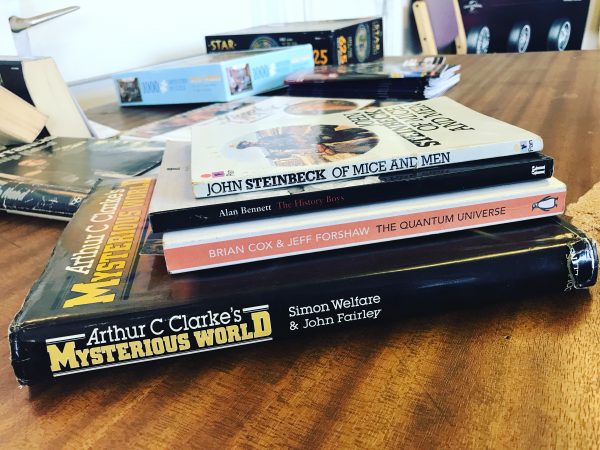 Thursday 7th November – West End Centre, Aldershot

Upon reading my MOT report more closely, I see four new tyres are required and head to Avonmouth to browse second hand books at the local tyre fitters. It looks like Robin has been there first…
In all the excitement of new tyres, I forget to buy the books, but at least I can relax and not wonder whether the old tyres are going to explode at any moment. OR CAN I?
We head to Aldershot – a place I've never been before – and decide to replace a service station stop with a diversion to Newbury, a very pretty market town. I employ my standard internet search for "best local coffee shop" and we find ourselves at The Flower Pot for coffee and cake.
Robin loves charity shop book scouring, and I forgot to bring shampoo, so we each do our thing and then head off to Aldershot, arriving early enough to check into our hotel, set up and soundcheck at the venue, gather a dressing room picnic from the local supermarket, eat it *and* get ready. The luxury of a decent amount of non-travel time on tour!
As the days pass, my singing voice is regaining strength, and I feel good about tonight's performance. It's a real treat to be Robin's stealth musical support – unlike a music gig I'm not on first, easy to disregard by people who are only interested in the main event, or missed by people rushing over from work or family commitments. I feel properly part of things. Robin performs his first half an hour then welcomes me on stage, telling the audience how he met me online so Twitter can't be *all* bad. His fans are trapped in their seats, unable to leave without causing a commotion. They listen, they react, they clap. I love them.
At the interval I stand at the merch table, and there's a very welcoming queue. More than at any show I've played recently, people are here to support the venue as well as see one of their favourite comedians perform. They're grateful West End exists, and the staff and volunteers I speak to are happy to be part of something exciting and meaningful. So am I! It's wonderful to see, and a fine time is had by all in the bar after the show.
I think about how many places I'd never have had cause to visit if it wasn't for this musical life, and I feel very grateful for late night YouTube searches, people who champion others' work and comedy lovers who are happy to listen to something new. Hooray!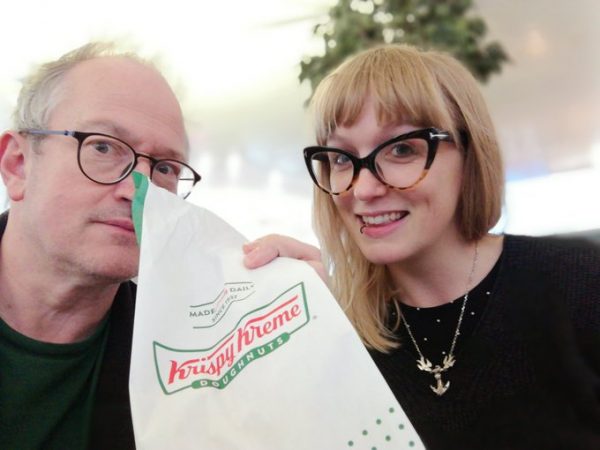 Friday 8th November – The Marlowe Theatre, Canterbury
The two hour journey from Aldershot to Canterbury becomes considerably longer after a kind person flags us down at a roundabout and points out that smoke is billowing from one of the back wheels. It all smells a bit barbecue-y. If you're going to break down, do it with easy access to doughnuts and a comedian, I learn, calling The AA out for the second time ever.
Something is up with the brakes, Jason tells me, and we chat about gigs and DJ-ing and all manner of stuff while he files something down, dusts something off and gets us up and running again. He follows us to the next services so he can take the temperature of all the wheels and make sure there will be no more smoke, then we're back on our own again. Thank you, Jason!
Canterbury is old and pretty, and has everything I need and desire – a shoe shop and hot pizza. It's not just the car who's been craving attention, my left boot is gaping open at the toe and practically talking to the front row during the show, so I invest in some Doc Martens that immediately start shredding my heels. BY THE BY, DID YOU KNOW Buffalo trainers are back?! I try some of those on first, sensible black then space silver, having craved them so strongly in my younger years, then laugh at the sartorial chasm between then-me and now-me, accept these shoes don't fit my personality any more and move on.
Pizza is consumed and the show begins pleasantly enough, but the steep theatre seating makes it hard to know where to look plus there seems to be something up with the audience. At the interval someone tells me it's because they're too hot. Robin is funny and engaging as always, and everyone is very nice, but it's been a long day and it's a tiring drive to the motorway hotel. Over snacks and terrible cheap wine (cheers Canterbury), Robin introduces me to this video – what do you think?
Saturday 9th November – Hanger Farm Arts Centre, Totton
With reports of wind and rain and general entry grossness coming from around the country, it's nice to take advantage of blue skies and sun in North Kent and head to Whitstable for a walk around and some lunch. What a lovely place! Bookshops galore, lots of nice dogs to gawp at in the street and excellent halloumi gyros to be had at The Horsebridge Arts Centre. Oh, and the sea!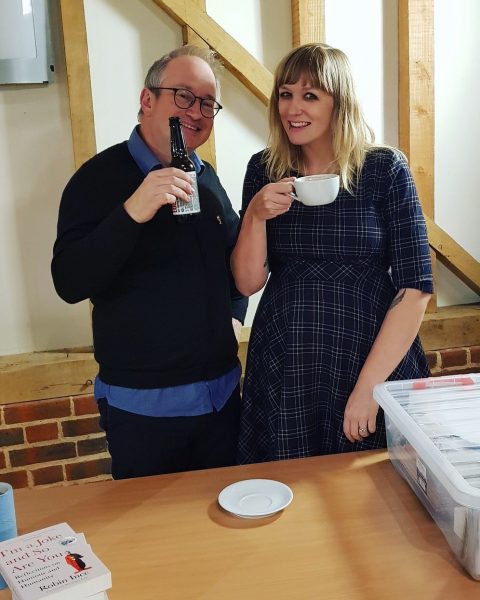 It's very dark when we pull up to Hanger Farm Arts Centre, a refuge of cosyness and creativity equidistant from Southampton and Peppa Pig World. Kyle and Alex make us feel right at home in the beautiful venue, the room is neither too hot not too cold, and I'm delighted to meet some SMW fans at the interval. One of the great things about supporting someone is playing to people who haven't heard your stuff before, but it's always fantastic to meet people who have. I'm struck as I always am by how special live performance is – all those open-minded, arts-supporting people taking time out of their busy lives to spend a few hours together in a temporary community, everyone getting something special and unique from the experience. It's a wonderful thing.
I drop Robin off at his hotel and head back to Bristol, listening to Creative Pep Talk podcast episodes and ruminating on the past few gigs. There are only a handful of She Makes War gigs remaining, but that doesn't feel weird yet. I'm simultaneously fired up with enthusiasm for new things, and happy to get to play a selection of my back catalogue for new people over the next couple of weeks. All is well.
Thanks to everyone who gave me their time and attention at Robin's recent gigs! If you didn't find my clipboard after the show, sign up here for 5 free songs and a discount code for my shop (and YOU can sign up too, even if you weren't there).


Onwards to Corsham, Oxted (last SMW headline set!) and Cambridge next week, with Otley the week after and Bristol and Cardiff the week after that. Hope to see some of you!

PS thank you to @glassy_witch on Instagram for the photo of me and Robin partying at the merch table!
====
If you enjoyed this blog post, please grab 5 free songs here! and join my friendly online community to hear about my musical activities first.
Want to listen to more of my music? My latest album "Brace For Impact" is available here in all formats and I have a back catalogue to explore here.
My Supersub Club launched in March 2019 and welcomes you behind the scenes as I make new music. Join us!
Why not come to a gig some time? The last run of She Makes War gigs are taking me around Germany, France and the UK in October and November 2019.
I'm on Twitter, Instagram and Facebook, but I'd rather write to you more personally.
Thanks for supporting me!