I'm delighted to be teaming up with the fabulous SKATING POLLY on tour this October!
I'll be appearing as their special guest for shows in Germany and France and co-headlining with them around the UK.
See below for the full list of dates – tickets are on sale now!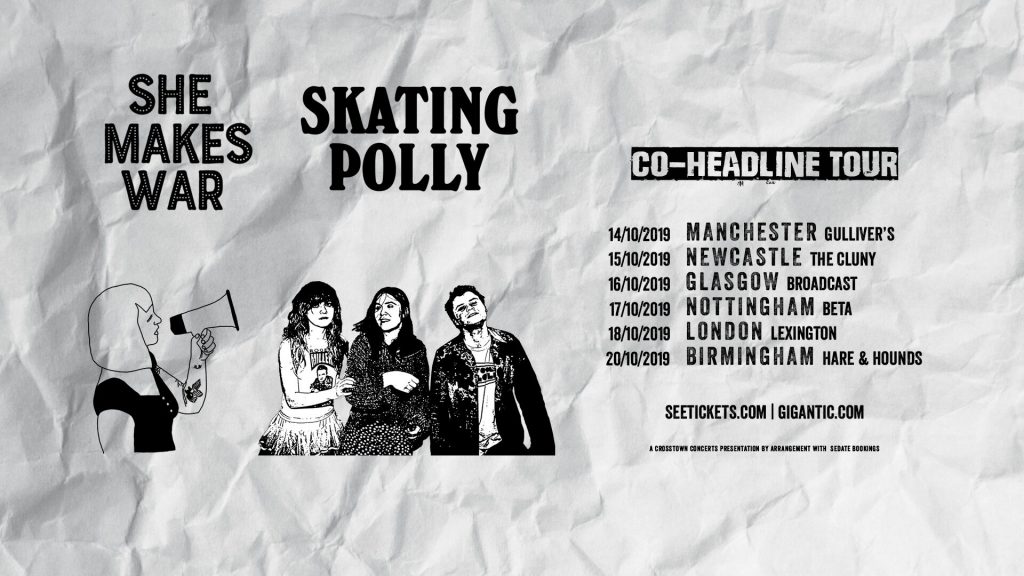 03-10-2019: Hannover (DE) @ Glocksee** Apologies, I'm no longer playing this show **
04-10-2019: Hamburg (DE) @ Stellwerk – TICKETS
05-10-2019: Nürnberg (DE) @ Die Kantine – TICKETS
08-10-2019: Karlsruhe (DE) @ Kohi – TICKETS
09-10-2019: Lyon (FR) @ Le Trokson – TICKETS
10-10-2019: St. Etienne (FR) @ Disorder Club – TICKETS
11-10-2019: Paris (FR) @ Supersonic – TICKETS
12-10-2019: Montbéliard (FR) @ Atelier Des Môles – TICKETS
**UK DATES**
14-10-2019: Manchester (UK) @ Gullivers – TICKETS
15-10-2019: Newcastle (UK) @ The Cluny 2 – TICKETS
16-10-2019: Glasgow (UK) @ Broadcast – TICKETS
17-10-2019: Nottingham (UK) @ Beta – TICKETS
18-10-2019: London (UK) @ Lexington – TICKETS
20-10-2019: Birmingham (UK) @ Hare & Hounds – TICKETS
====
If you enjoyed this blog post, please sign up to my mailing list – I'll send you a 5 song taster EP in return.
Want to listen to some of my music? My new album "Brace For Impact" is available here in all formats and I have a back catalogue to explore here.
My brand new Supersub Club launched in March 2019 and welcomes you behind the scenes as I make new music. Join us!
Why not come to a gig some time? If you'd like area-specific gig alert emails click here to sign yourself up, or you can follow me on Songkick or Bands In Town.
I'm on Twitter, Instagram and Facebook, but I'd rather write to you more personally.
Thanks for supporting She Makes War!