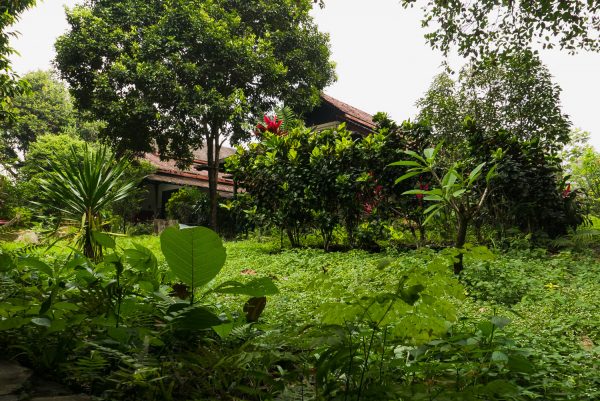 + CLICK TO READ ALL INDONESIA POSTS
+ CLICK FOR FULL PHOTO GALLERY
After a few days to settle in to life in Depok the music making part of the arts residency began. KunoKini have the great luxury of having a dedicated space in the grounds of their family home that is used for rehearsal. It's pretty great being able to just pop out into the gorgeous garden to make music, and there's even power out there so I can set up my travel amp and pedals. The photo above is what I get to look at on rehearsal days. Yes, I know how lucky I am!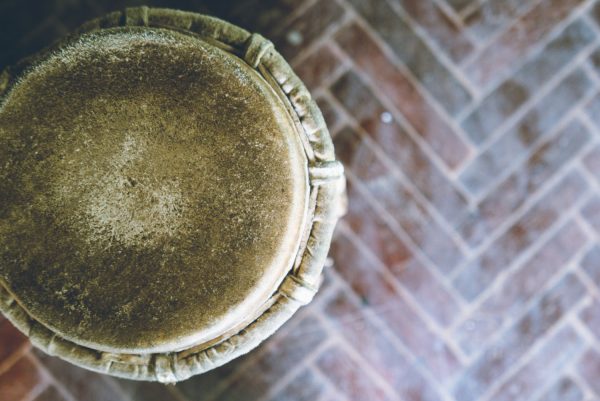 Now, it's no secret that I haven't been a fan of "jamming" in the past. In my experience playing in bands it's an arduous, repetitive activity where dominant personalities in a group jostle for supremacy, enforcing their preferred parts over and over again until everyone else buckles and plays along. In the session world, I quickly grew tired of the brief interludes between rehearsing the artist's music, because invariably someone would start "jamming out" a jazzy blues scale (always, always this) and I'd be so turned off and disinterested that I'd leave the room to make a cup of tea rather than picking up my bass to join in. I don't slap, you see, it's a hard and fast rule of mine. The only other times I've been invited to "have a jam some time" has been after some of my gigs, by shady guys I wouldn't even have a cup of tea with in broad daylight, much less lock myself into a sweaty rehearsal room with.
Despite all this, part of the allure of this residency for me was the emphasis on creating music together, bringing our individual styles and experience to the table and seeing what happens. I was also looking forward to trying some improvisation, which isn't something I've ever done in a group setting, and is a skill I greatly admire in others.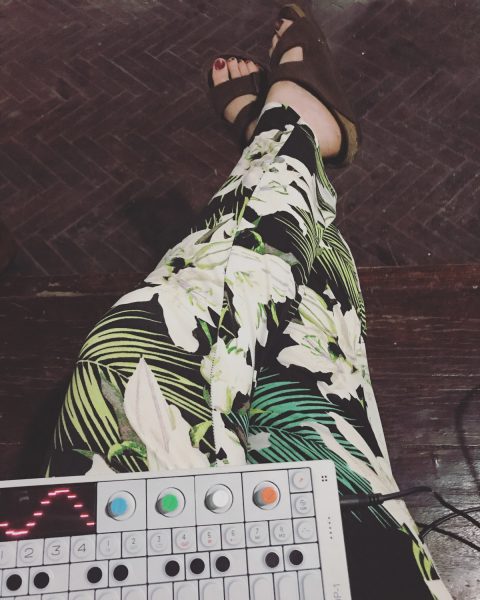 Our first rehearsal was a great warmup – Mas Bhismo had a new KunoKini song he invited us to play along with, finding our own space and our own parts. I was feeling artistically contrary and decided the ultimate culture clash would come not from playing electric guitar but from getting the OP-1 synth involved. It sounded great, and Bhismo and Bebi were delighted because the whole old meets new thing is what KunoKini is all about.
Though the core of KunoKini is Bhismo and Bebi, they work with additional players on an ongoing basis and so more and more people arrived throughout the day, playing different kinds of percussion, saxophone and an Indonesian glockenspiel I believe is called a gambang kayu. The kendang player appears to lead everything but the communication between all the players is a sight to behold. The more I see them in action the more I notice the vocal cues and appreciate the complex interlocking rhythms. It's so much fun, too, which certainly isn't true of all the bands I've played in!
On Friday 7th we attended our first workshop of the programme, held at a nearby arts centre called Rumah Kahanan. After watching an incredible display of drumming, playing and singing from a group of young men known as Svara Samsara, they invited us to have a go on some of the instruments. I was intrigued by the rindik, a Balinese bamboo instrument that looks like a bigger glockenspiel. You play while sitting cross legged on the floor, which was the hardest part for me as last year's broken foot still doesn't quite bend that way, and as with a piano the left and right hands play separate parts. Pele taught me a simple pattern and it felt wonderful to be playing an instrument with such history.
Next up Dani and I were invited to play the talempong – small but heavy gongs that you hold vertically with one hand, hitting the centre with a beater. These are played in small groups – at least two people will play patterns that work together to create melodies and counterrhythms that fit with everything else that's going on around them. Separating out bits of melodies like that is a really interesting idea and something I'll definitely be trying in my own music in future.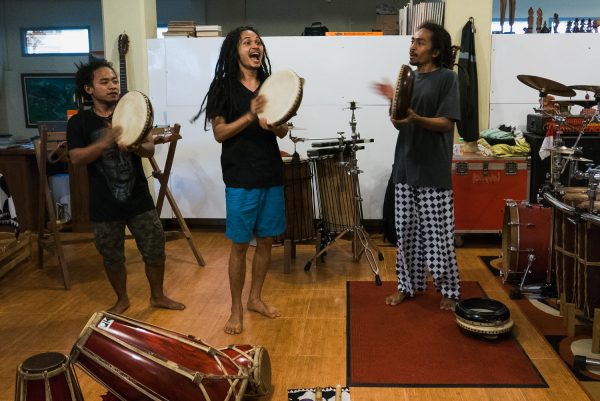 The same goes for the rebanas (pictured above) – heavy tambourine-like instruments that are, again, held vertically in one hand and hit with the other, either with a flat palm or with one finger for a different, lighter tone. You can tilt them downwards or upwards for a different sound as well, and standing in a circle with five of us playing different rhythms was an incredibly exciting experience. This is where I learned more about the vocal cues groups use to let everyone know a change is coming up. In our case the guy on the drum kit was cued by one of the rebana players to play a beat which cued everyone else to play a unison rhythm as a kind of tag line, then everyone took up their previous rhythms again. It felt pretty amazing to be a part of this complicated sound, and there's great pride to be gained from doing it well and being strong enough not to give up halfway through (thanks, yoga muscles!).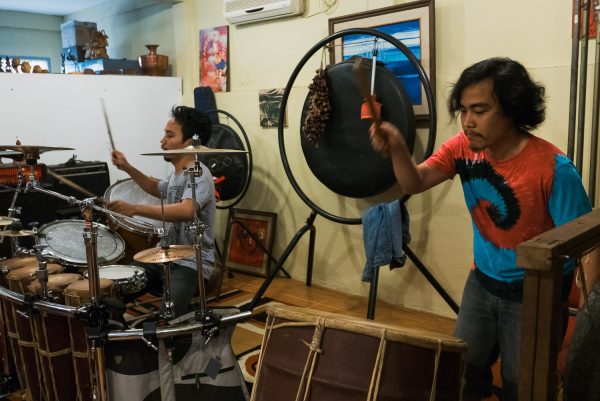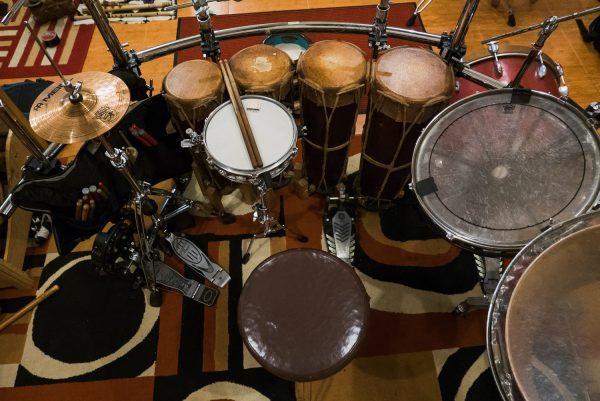 Rumah Kahanan is a very special place. Founded in 1994 by percussionist Inisisri, who went on to great fame for his fusion of traditional techniques with cutting edge production, it fell into disuse after his death, only to be reborn in 2014 to become a hub for music once more.
Svara Samsara consist of 5 extremely talented guys from different parts of Indonesia who have been encouraged to bring their own individual pieces of music to the group to great success – next week they fly to Malaysia to perform at the Rainforest World Music Festival in Sarawak, a very rare opportunity for groups from this country and one that is well deserved. Have an amazing time, chaps!
Massive thanks also to Aryam and Lina for making us so welcome and for inspiring conversations about the great work they both do.
LISTEN to Svara Samsara's debut album here – incredible stuff!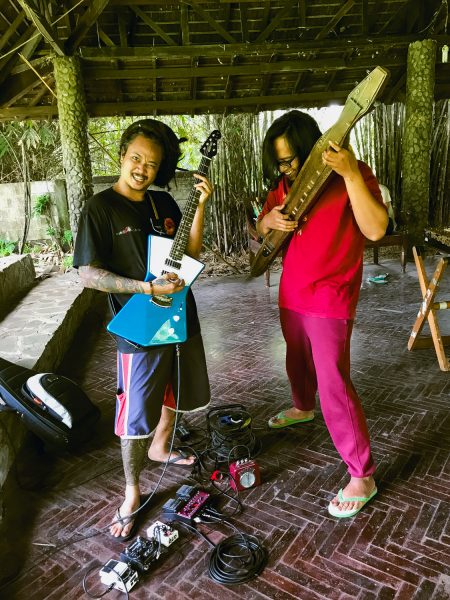 Buoyed up by my experiences with traditional instruments, at the next KunoKini rehearsal I picked up the sampe, a traditional three-stringed Dayak guitar which sounds, to my ear, a bit like a bouzouki. I bought a baglamas – a smaller version of the bouzouki – in Athens a few years ago and have yet to master it, but enjoy putting my fingers in random places and seeing what it sounds like.
That was pretty much my technique with the sape – you only put your finger down on the top string so it's a case of finding good tuneful patterns which are supported by the two other strings in an open tuning.
I made up a riff and KK came up with some signature complex rhythms to go underneath. After putting the sape through my mini travel rig – a Strymon El Capistan delay pedal and an OCD overdrive into a Honeytone amp – we added an epic, post-rock style intro onto our new song.
That day I particularly enjoyed showing Mas Bhismo how to use a loop pedal – the delight on his face when he successfully looped a reggae groove played on my Music Man St Vincent was worth lugging my heavy bag of gear across continents. This might be my favourite photo of the trip so far. Old meets new indeed!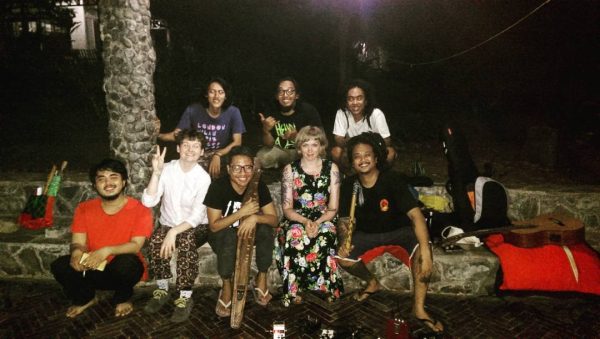 Last night we had a visit from Andre Dinuth, a songwriter in his own right who also works as a session guitarist for famous Indonesian r&b singer Glenn Fredly. I've never met someone with 36.4K Instagram followers before – he was most pleasant! We're collaborating on a workshop tomorrow at the Grand Indonesia mall so he brought a chord sequence along for us to write parts for. I stuck with the St V this time and was impressed by the sound of Andre's tiny Blackstar amp, a welcome upgrade from the Honeytone which, while easy on the eye and super handy for practising, doesn't really make the most of my guitar and pedals.
I'm really looking forward to performing my song "Delete" tomorrow in Jakarta as part of a free afternoon programme of music. Stop by if you're in the area!
===
If you enjoyed this blog post, please consider supporting my independent musical project by grabbing some music here.
Get 5 free songs plus regular but never spammy information, gig news and treats by signing up to the mailing list.
Visit my website for photos, music videos and gig listings.
And for day to day news, thoughts and music recommendations please follow me on Twitter.
xo
SaveSaveSaveSave