+ CLICK TO READ ALL INDONESIA POSTS
+ CLICK FOR FULL PHOTO GALLERY
You can't get a bunch of musicians working together without letting them show off to strangers, so a series of mixed talk/performance shows were planned into our varied month of activities.
The first, on 11th July, was a great way to introduce our music to each other as well as to the audience, as we hadn't got much of an opportunity to do so beforehand. The purpose built red theatre tucked away inside the mammoth Grand Indonesia Mall in Central Jakarta was a lovely setting; KunoKini opened proceedings with an excellent performance and a warm and engaging chat with the audience, explaining how they use traditional Indonesian instruments with respect to make non-traditional music with rousing sentiments.
Next our new pal Andre Dinuth played two pieces from his back catalogue and explained to the audience how hard he worked to be able to make his nimble fingered guitar playing look so effortless, then fellow residency musician Dani played two of her original songs and talked about her time in Palestine last summer delivering music workshops.
It was exciting performing "Delete" and "Slow Puncture" for the first time ever in Asia. Whenever I find myself in an unbelievable musical scenario I think back to writing SP on my bed in a rented basement studio flat in Peckham in 2008, my dog Mister Benji lying next to me, and I marvel at the power of music to open doors around the world. It's a truly incredible passport and I value each and every experience it brings me.
After the show we were invited to take part in a batik workshop run by the arts team at the mall, and my shoddy attempts at copying this great art were recorded for posterity by my new Instagram pals Kevin, Prisley and (another) Kevin, who were kind and patient teachers. We were also shown how to check batik for authenticity and quality – apparently there are lots of cheap prints on sale as the real thing, but true batik is double sided and takes a lot of time and skill to make.
On 12th July we stayed at KunoKini HQ and welcomed some musical visitors to share their stories alongside us. It was a wonderful experience in every way, from watching the performances to sharing my own music plus thoughts on Islamophobia in the UK and the impact of Brexit to joining everyone on stage at the end to make a beautiful racket together, all followed by an incredible dinner cooked by celebrity chef Rahung Nasution.
The first musical guests were Kamila (pictured above): a three piece string pop band based in Jakarta. Individually, Mia, Ana and Ava are incredibly accomplished musicians and warm, friendly and interesting women, and together as Kamila they make a potent blast of sound. Sumptuous strings with cutting edge future R&B sounds and powerhouse vocals. Wow!
We were also very lucky to experience a heartfelt and intimate performance from Glenn Fredly, an extremely well known and acclaimed Indonesian R&B singer. Born in Ambon, the capital of the faraway Malaku province, he's been working to change the violent reputation of the city by using music as a peacemaking tool, and he shared some traditional songs with us from the area.
This year, the Indonesian government is seeking to nominate Ambon as UNESCO's "International City Of Music" at their international A Capella festival in October. Glenn talked about the city's violent past, with sectarian fighting between Christians and Muslims, and about his hope that music can bring people of all religions together.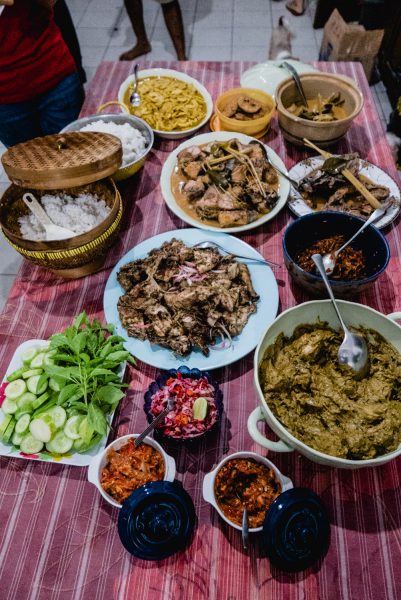 After all this musical nourishment, we were lucky enough to be presented with a table full of delicious Sumatran delights made with ingredients so unusual that Mba Sita and Mas Bhismo had to visit several different markets in the morning to find them! We were all grateful for their efforts, and of course to Rahung for sharing his cooking skills and treating us to dishes of young bamboo, stewed jackfruit, chicken and fish. There was a lull of very companionable silence as all the musicians ate a little bit too much and then had an early night to sleep it all off.
I'll be writing a post dedicated to food soon, I've eaten so many delicious things on this trip so far and I'm looking forward to sharing some of them with you.
Our final music workshop was held on 13th July at Citos Mall in Jakarta. Mall life in Indonesia is a big thing especially in the capital, which is vast and disconnected (even to people who live there), with seemingly no neighbourhood centres to bring people together. I've been told by many people here that Indonesians love to consume, and so these giant, glittering edifices can be found all over the place, stuffed with shops and eateries. I wouldn't be excited to eat in an English shopping centre, but the food I've eaten in Indonesian malls has been really good.
Our show was part of "Musik Bagus Day", a regular event Glenn Fredly is involved with which gives musicians a platform and brings culture to the people in the mall. Our venue was an Italian restaurant called Popolamama, and we all enjoyed some unexpectedly (because of the setting and the country) delicious pizza before taking the stage. Mas Bhismo had conceived the event as talks and performances around the philosophy of music, and I enjoyed playing five songs and talking about their meanings:
"Olympian" – the Greek story where Cupid shot a gold arrow into Apollo's heart so he'd fall in love with the nymph Daphne, who he shot with a lead arrow so she could never love again. Sick of being pursued by Apollo, Daphne begs her father to turn her into a tree and so she becomes a laurel tree.
"In This Boat" – where I discuss our bodies as vessels who take us on our journey through life. If we work to make our vessels strong, healthy and happy then we can invite others on board, if not we might spring a leak!
"I Want My Country Back" – my recent single (watch the video and grab the song here for free/PWYW!) where I give the right wing press what for and twist their racist rhetoric around, reminding people that if they "believe that all Muslims are terrorists" they're ignorant and deserve to have their job "stolen" from them. Playing that song for the first time in a country full of mosques was scary but people I've spoke to here are really pleased that I've written it, and shocked by what's being written about their religion.
"Delete" & "Scared To Capsize" – two songs that are very personal to me, but I think touch people because we share these experiences. I talked about how I like sad music with a hopeful twist because I can connect with it, and wouldn't feel comfortable writing happy songs because it feels like bragging.
Songwriting is so cathartic for me, and part of my musical philosophy is that travelling around the world touring and having experiences like this 5 weeks in Indonesia is what feeds my brain and my heart to make the next batch of music.
But first – more adventures. Thanks for reading!
Laura xo
===
If you enjoyed this blog post, please consider supporting my independent musical project by grabbing some music here.
Get 5 free songs plus regular but never spammy information, gig news and treats by signing up to the mailing list.
Visit my website for photos, music videos and gig listings.
And for day to day news, thoughts and music recommendations please follow me on Twitter.
xo
SaveSave
SaveSave