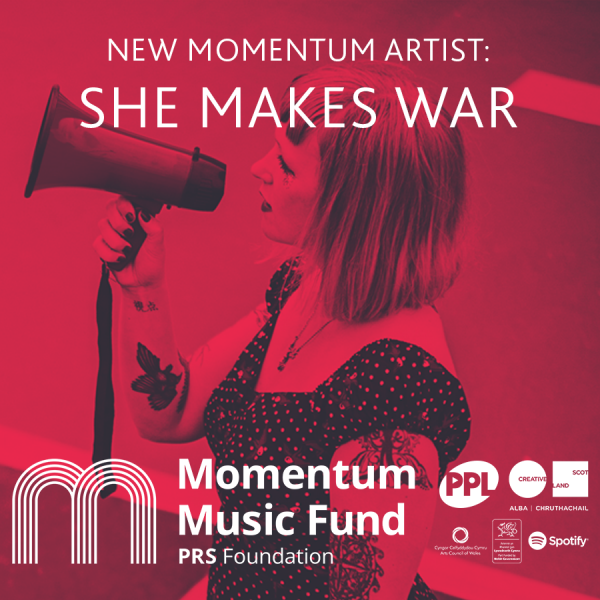 Massive thanks to PRS Foundation for awarding my "Brace For Impact" album release tour substantial funding via the Momentum Music Fund!
It's a real honour plus a mental, emotional and financial boost to be supported by PRS Foundation and their partners – PPL, Arts Council of Wales, Welsh Government, Creative Scotland, and Spotify. It just wouldn't have been possible to do this tour in a professional way without the funding, so I'm very grateful indeed for the help.
The third and final leg of the tour kicks off tonight in Birmingham at one of my favourite venues, the Hare and Hounds. I first sang there in Carina Round's backing band in 2011, returning to support Erica Nockalls and Miles Hunt a couple of years later at a very memorable, jam-packed show. It's very cool to be returning to the big room to headline my own gig.
The rest of the remaining dates in Oxford, Southampton and Bristol are below – get tickets here.
Thanks so much to everyone who's come out to support me so far, it's genuinely been the most fun tour I've ever done – thanks to my live band Charlie Romijn, Charlotte Nicholls, Guy Metcalfe and Mike Youé plus sound engineer Oli Scoble for being such brilliant company on stage and off.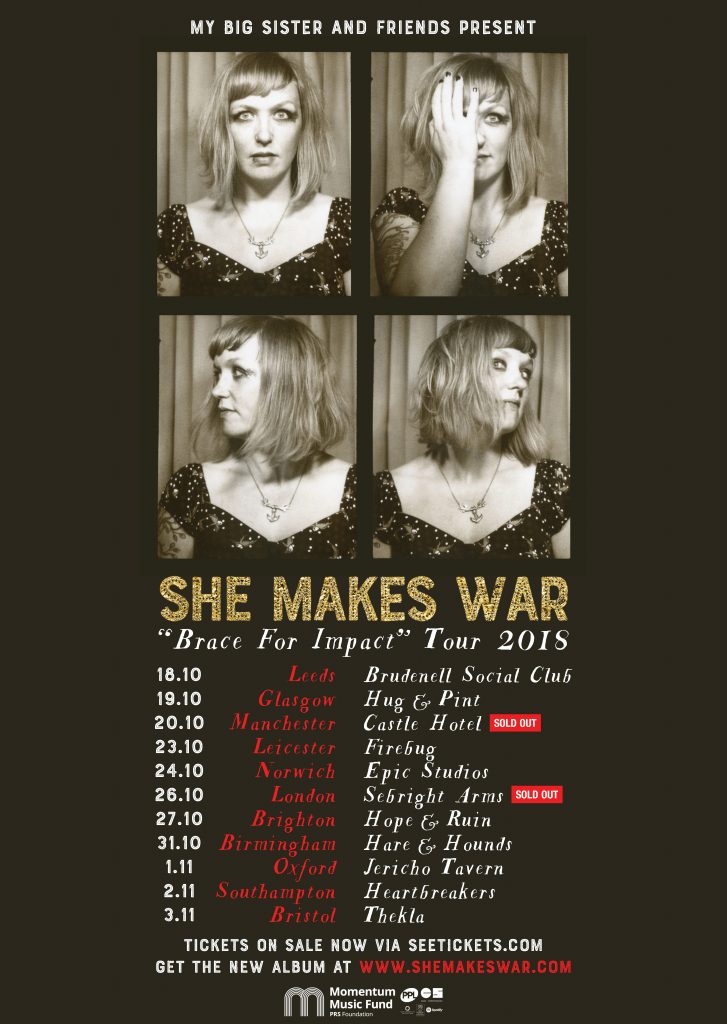 About Momentum Music Fund
Managed by PRS Foundation, the Momentum Music Fund awards grants of £5,000-£15,000 using funds from PRS Foundation, PPL, Arts Council of Wales, Welsh Government and Creative Scotland, with additional funding and support from Spotify. Momentum provides vital financial support which will help talented artists and bands to take their career to another level. Activities eligible for support include recording, writing, touring and marketing.
#momentum
About PRS Foundation
PRS Foundation is the UK's leading charitable funder of new music and talent development. Since 2000 PRS Foundation has given more than £29.5 million to over 6,300 new music initiatives by awarding grants and leading partnership programmes that support music sector development. Widely respected as an adventurous and proactive funding body, PRS Foundation supports an exceptional range of new music activity – from composer residencies and commissions to a network of talent development partners and showcases in the UK and overseas. www.prsfoundation.com | @PRSFoundation
@prsfoundation #momentum
About PPL
Founded in 1934, PPL is the UK music industry's collective management organisation (CMO)for tens of thousands of performers and record companies. We license recorded music in the UK when it is played in public (shops, bars, nightclubs, offices etc.) or broadcast (BBC, commercial radio, commercial TV etc.) and ensure that revenue flows back to our members. These include both independent and major record companies, together with performers ranging from emerging grassroots artists through to established session musicians and influential festival headliners.
PPL has a market-leading international collections business, with 87 agreements in place across 41 countries, helping members to maximise their revenue when their repertoire is played overseas. We collected £212.1 million in the UK and internationally in 2016 and paid over 92,000 performers and record companies.
About Arts Council of Wales
Arts Council of Wales is responsible for funding and developing the arts in Wales. We believe the arts are central to the life and wellbeing of the nation. We invest public funding, using these funds to create opportunities for people to enjoy and take part in the arts.
Our principal sponsor is the Welsh Government. We also distribute funding from theNational Lottery and raise additional money where we can from a variety of public and private sector sources. Working together with the Welsh Government, we are able to showhow the arts are helping to meet the Government's policy ambitions.
About Welsh Government
The Welsh Government is the devolved Government for Wales.
About Creative Scotland
Creative Scotland is the public body that supports the arts, screen and creative industries across all parts of Scotland on behalf of everyone who lives, works or visits here. We enable people and organisations to work in and experience the arts, screen and creative industries in Scotland by helping others to develop great ideas and bring them to life. We distribute funding provided by the Scottish Government and the National Lottery. For further information about Creative Scotland please visit www.creativescotland.com.
Creativescotland.com @CreativeScots
About Spotify
Spotify is an award-winning digital music service that gives you on-demand access to over 30 million tracks. Our dream is to make all the world's music available instantly toeveryone, wherever and whenever you want it. Spotify makes it easier than ever to discover, manage and share music with your friends, while making sure that artists get a fair deal. Since its launch in Sweden in 2008, Spotify has driven more than US$3bn to rights holders. Spotify is now the second biggest source of digital music revenue for labels in Europe, and the biggest and most successful music streaming service of its kind globally.www.spotify.com/uk