Tickets plus limited edition "Disarm" t-shirts available NOW.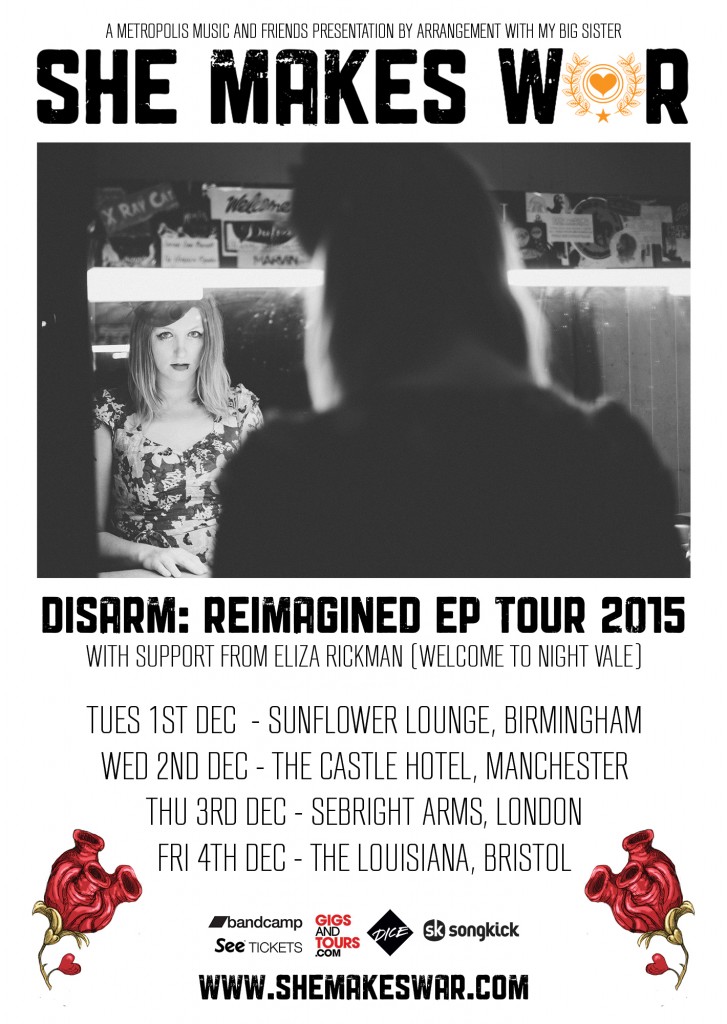 "Why just sing songs, when you can build worlds?" – The Quietus
"A fantastic Polly Harvey/Jeff Buckley hybrid – belting out tales of doomed life and love" – Louder Than War
Laura Kidd aka She Makes War is in a reflective mood, celebrating the fifth anniversary of her critically acclaimed debut album "Disarm" with an EP and a short winter tour.
"Disarm: Reimagined" will revisit several audience favourites from her debut, tenderly reworked with the benefit of five years of life, love and touring. As Kierkegaard said, "Life can only be understood backwards; but it must be lived forwards."
It's been a busy year for the Bristol polymath, taking in two German tours, a universally acclaimed one-woman show at Edinburgh Fringe ("a charming hour of biographical storytelling and music…perfectly executed acoustic gems" – The List), support tours with Duke Special (UK) and The Levellers (UK & Europe), a 22 date UK headline tour, dates with tUnE-yArDs, Gruff Rhys, New Model Army and Pretty Vicious and the recording of her third album "Direction Of Travel" (due for release in early 2016).
A heartstealing blend of solo a capella looping, riot grrrl inflected indie rock and ukulele melancholy with a spellbindingly intimate vocal capable of melting even the harshest of hearts, She Makes War will visit Birmingham, Manchester, London and her newly adopted home town of Bristol for four special headline shows which will heavily draw from "Disarm" and forthcoming third album "Direction Of Travel". Support on all four shows will come from Eliza Rickman (USA).
Tuesday 1st December – Birmingham – Sunflower Lounge
Wednesday 2nd December – Manchester – The Castle Hotel
Thursday 3rd December – London – Sebright Arms
Friday 4th December – Bristol – The Louisiana
+++
A hint of menace and reservoirs of force haunt the corners of Eliza Rickman's voice, whatever register it occupies. Her presence on stage is an enveloping, soft darkness, impossible to ignore. After a Kickstarter-funded debut album in 2012, the release of multiple music videos widely considered to be small cinematic masterpieces, and a virtual non-stop touring schedule, Rickman is crossing oceans for her first ever UK dates.
Her song "Pretty Little Head" was featured on episode 45 of the immensely popular podcast "Welcome to Night Vale" and quickly became a fan favorite, which led to the coveted musical guest spot on their summer tour. She was also invited to contribute to Jason Webley's "Margaret" – an ensemble concept album about a mysterious woman whose scrapbook was found in a dumpster. Eliza has recorded two albums with Jason Webley, both of which are slated for release in late 2015.
===
If you enjoyed this blog post, please consider supporting my independent musical project by grabbing some music here.
For regular but never spammy information, gig news and treats please sign up to the mailing list.
Visit my website for photos, music videos and gig listings.
And for day to day news, thoughts and music recommendations please follow me on Twitter.
xo