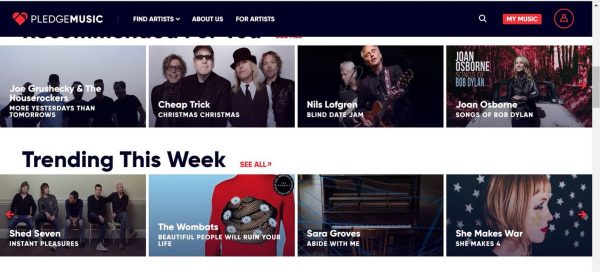 TL;DR: PLEASE PLEDGE HERE XOXO
I have tears pricking the backs of my eyes as I write this, and not only because I've been suffering my way through a heavy cold all weekend, which has turned me into a whingey whiney sofa monster. *ATCHOO*
Late on Saturday night Dan Chisholm, a dear supporter who has his own excellent regional BBC Radio show, sent me the screenshot above which showed the photo I took of myself on the set of the "Stargazing" video last year (for set read back bedroom of my house, where I write all my songs) underneath a photo of JOAN OSBORNE. Yes, *that* Joan Osborne, the "what if God was one of us" Joan Osborne. Why was my photo underneath Joan Osborne's? Because, due to 334 brilliant individuals taking a chance on an album they haven't heard yet, and pledging their hard earned cash to support my musical dream, my PledgeMusic campaign was trending in the top 10 artists worldwide.
At the time of writing it's *still* trending in the top 10 artists worldwide, alongside Sophie Ellis Bextor, Steps, Shed Seven, The Wombats, Delphia, OMD, The Rifles, Sara Groves, Jimmy Buffet, American Aquarium and Shawn Mullins. I'm confident you'll have heard of at least 50% of those artists. But have you heard of She Makes War?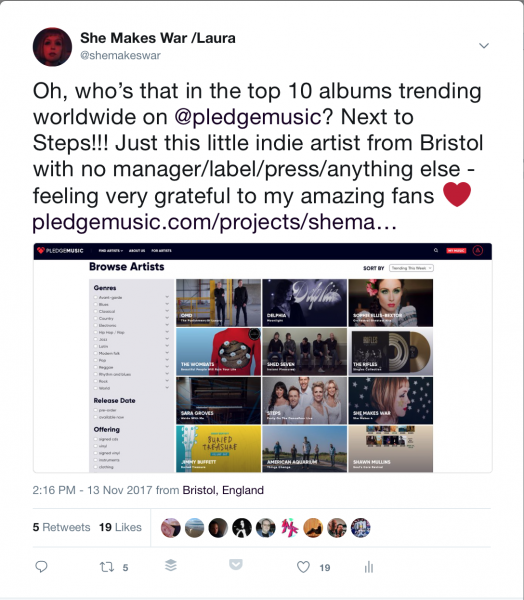 This afternoon I shared this latest image online, not in a self congratulatory way but to say look world, look what hard work and perseverance can do! I make music in, around or alongside an industry that rewards the brand new, the hip, the they-think-it-will-sell-because-it-sounds-a-bit-like-that-other-band-who-were-massive, and by releasing three albums under my own steam and prioritising touring and engaging with my audience over playing confusing, no-rulebook games I have found myself in my own personal no man's land.
I currently have no manager, no label, no press person, no anything – at the moment it's just me and my fiancé Tim working together to "do amazing things with good hearts". I'm making the music that I've always wanted to make and figuring out the best ways to communicate with the people who appreciate that and he's helping me spread the word in an organic way and looking after the dogs single-handedly when I'm on tour. Moments like this trending worldwide thing and when we got radio plays last year by sending good old-fashioned CDs in the good old-fashioned post (THANK YOU Tom Robinson, Marc Riley, Steve Lamacq, Lauren Laverne, Alex Baker, John Kennedy, Shell Zenner and BBC Intro West!) give me incontrovertible evidence that my approach to all this is working, plus give me an excuse to use the word incontrovertible in a blog post. Double score!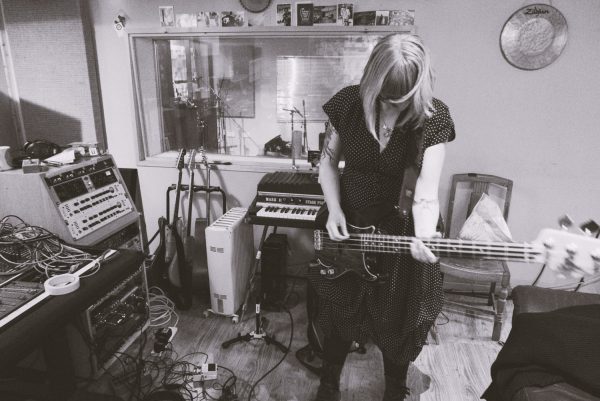 After spending the last year with my head down creating new music, not gigging much and not having much to share with my fans, I was feeling pretty disconnected. "Why would anyone even want to hear my new music?" is one of the many self deprecating, whiney questions I'm sure all (good) artists ask themselves, regardless of the confident exterior they may present, so launching the new album Pledge campaign last Thursday and seeing name after name pop into my inbox was a massive, heartwarming relief, as was the news earlier today that all three of my December headline shows are nearly sold out (update: Bristol is now SOLD OUT).
334 pledges in 4 days means 334 votes of confidence in me and my music, 334 people who don't need to wait to be told what to buy, who don't look at billboards for new music tips, who don't need to wait for a group of their friends to agree that yes, this band is worth listening to. They simply don't care what the A&R people think is new, fresh, cool, and set to be the Next Big Thing. There are a lot more than 335 of these independently minded people out there, and that knowledge gives me such a boost. My quest in life is to find those people!
Since releasing my second album in 2012 my goal has always been to build a good team of people around this musical project to give my albums the best chance to reach the most people. If you have something to offer, I'm available for a chat.
But in the meantime, I'm more interested…will you be pledger 335?
===
If you enjoyed this blog post, please consider supporting my independent musical project by pre-ordering my new album via PledgeMusic.
Get 5 free songs plus regular but never spammy information, gig news and treats by signing up to the mailing list.
Visit my website for photos, music videos and gig listings.
And for day to day news, thoughts and music recommendations please follow me on Twitter.
SaveSave