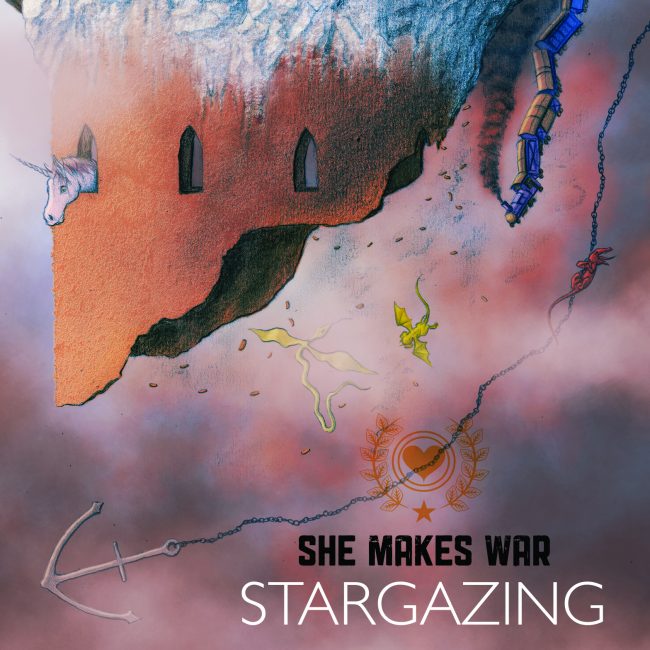 Stargazing (radio edit)
Stargazing (Cajita remix)
"Stargazing" is the final single from She Makes War's 2016 album "Direction Of Travel".
WATCH THE VIDEO! Inspired by the Ed Harcourt lyric "Navigate to the moon / Flee the planet this afternoon" ("Until Tomorrow Then"), Laura plays a space-obsessed character who's trying to escape Earth with the help of some natty space pyjamas, a rocket shaped egg, two adorable dogs and Bristol locations Clifton Suspension Bridge and Troopers Hill.
A veritable Bond theme-in-waiting, the song features show-stopping strings by Andrew Skeet (The Divine Comedy), beautifully accentuating the honesty, vulnerability and strength in Laura's lyrics: "I don't believe anybody any more".
Produced by Laura Kidd.
Strings arranged by Andrew Skeet.
All instruments by Laura Kidd except cello by Nicole Robson and violin by Simon Goff.
Guitar engineered by TJ Allen at Station 7, J&J Studios, Bristol.
Strings engineered by Matthew Twaites at Metway Studio, Brighton.
Mixed by Dan Austin.
Mastered by Dick Beetham at 360 Mastering, Hastings.
Artwork and design by Alex Bertram-Powell.
Music and lyrics by Laura Kidd.
LYRICS © Laura Kidd
Stargazing
Now every morning when I wake
I roll around and list the reasons my heart aches
You never felt like a mistake
But you're less than a friend, less than a friend
Less than a friend, less than a friend
We went stargazing
You thought I was amazing
You said we had time
You don't know you lie
Now you're a stranger
I guess I never knew you
You widened my sky
But now my heart's run dry
Done with disaster, that's all
I don't believe that I'll survive this man sized storm
I don't believe anybody any more
Cos you're less than a friend, less than a friend
Less than a friend, less than a friend
Less than a friend, less than a friend
We went stargazing
You thought I was amazing
You said we had time
You don't know you lie
Now you're a stranger
I guess I never knew you
You widened my sky
But now my heart's run dry
We went stargazing
You thought I was amazing
You said we had time
You let your body lie
Now you're a stranger
I guess I never knew you
You widened my sky
Now just let it die
Let it die
Now just let it die