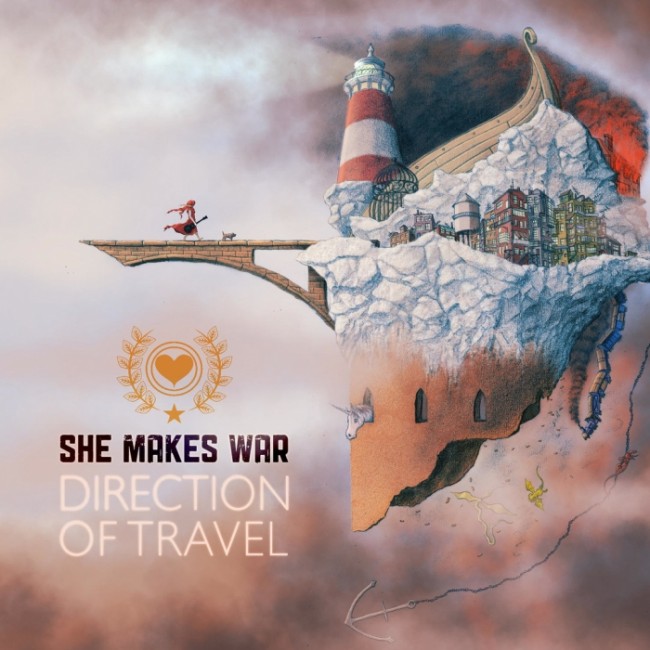 Drown Me Out
Cold Shoulder
In Cold Blood
Alone
Paper Thin (featuring Tanya Donelly)
Please Don't
Stargazing
Slow Down Sunshine
5000 Miles
Time To Be Unkind (featuring Mark Chadwick)
Turning To You
The Best
READ BEHIND THE SCENES: Part 1 // Part 2 // Part 3
My third album Direction Of Travel was made in the cold months straddling 2014 and 2015 in Bristol, Brighton and London.
It felt like a long time coming. Between releasing "Little Battles" in 2012 I'd moved cities, lived in six different houses, loved a little and lost a lot. Right before I went in to the studio in December 2014 I tested my mettle with a 35 date tour, consisting of three weeks adventuring around Germany on my own, travelling by train, and three weeks supporting The Levellers in Germany, The Netherlands, Sweden, Denmark and all around the UK.
I survived to tell the tales contained within these songs, and now it's time for them to find their own direction of travel. Thank you so much for listening.
Scroll down for lyrics…click here for reviews.
CREDITS
Produced by Laura Kidd.
Mixed by Dan Austin.
All songs and music by Laura Kidd.
Engineered by TJ Allen at Station 7, J&J Studios and Planet 245, Bristol.
Additional engineering by Matthew Twaites at Metway Studio, Brighton and Laura Kidd at Knowle Rocks, Bristol.
Mastered by Dick Beetham at 360 Mastering, Hastings.
Artwork and design by Alex Bertram-Powell.
Portrait photography by Dina Karklina, travel photography by Laura Kidd.
All instruments played by Laura Kidd except:
Guest vocals on track 5 by Tanya Donelly, and track 10 by Mark Chadwick.
Drums on tracks 1, 2, 3, 8 by Andy Sutor, drums on track 4 by Clive Deamer
Piano on tracks 10 and 12 by Cajita.
Strings on track 3, 6 and 7 by Nicole Robson and Simon Goff.
Strings on track 5 and 9 by The McCarricks.
String arrangement on track 7 by Andrew Skeet.
Backing vocals on track 4 by Tim Bailey, Cajita, Mishkin Fitzgerald, Elijah Dahl, Josie Ghost, Gaz Brookfield, Chris Nicholls and Ian Blundell.
Drum programming on track 9 by TJ Allen.
Special thanks to everyone who helped make this album by pledging, especially David Callier, Antony Hoskins, Ralf Synowzik, Paul Beauchamp, Jordan Hicks, Jan Zimmermann, Wayne Hemingway, John Bell, Andrew Shield, Dietmar Bloech, Richard Bennett, Gerd Schoenewolf, Matthew Powell, Willie Smith, Jan Zimmermann, Steve Watts, Timothy Masters, James Smith, Matthew Falconer, Jon Vile, Robert Penfold, Kevin Tanswell, Nick Ash, Douglas Young, Simon Dawes, Gareth Jones, Dan Borsos, Daniel Underhill, Chris Pixie, Martin Cockrill, Cathy Griffiths, Matt Farmer, Marc Poljak, Andy White, Jennie Findlay, Hype Less, Tim Ellis, Michael Kalman, Peter Kent, Jonathan Leonard, James Hill, Nicholas Manktelow, Keith Kerwin, Dávid Kovács, Chris Gregory, Adam Hill, Michael Ray, Daniel O'Brien, Santiago Seoane Portela and Michael East. We did it!
LYRICS © Laura Kidd
Drown Me Out
We're not safe here now, I have burned the lighthouse down
You're not good for me
Diving dreams to sea, but the rocks have stopped me
They're not friendly
Would you fall asleep so I can't reach you?
Would you turn away so I can't touch you?
Forfeit myself - drown me, drown me out
Sick of silence - drown me, drown me out
I'm not sorry - drown me, drown me out
Kisses smother me - drown me out
Darkness take me soon
Water suck me under - it's my escape from you
Would you fall asleep so I can't reach you
Would you turn away so I can't touch you
Forfeit myself - drown me, drown me out
Sick of silence - drown me, drown me out
I'm not sorry - drown me, drown me out
Kisses smother me
So you're throwing a rope
Cos your victim is overboard
But I'm looking for something wonderful
To keep me in this lifeboat
Would you fall asleep so I can't reach you
Would you turn away so I can't touch you
Forfeit myself - drown me, drown me out
I'm not sorry - drown me, drown me out
Sadness suffocate - drown me, drown me out
Sick of silence, sick of myself
Drown me out - ah
Cold Shoulder
I'm waiting in line
He's taking his fucking time
I'm not doing all right
I did some crying on my friend last night
You know I'm not stupid
So why don't you tell me what you've done?
You say you're a good man
So come on and prove it with action
I'm not going to kiss your cold shoulder again
I'm waiting to find out who you think you are
And what's going on in your head
What's coming for me?
Ex-girlfriend or STD?
Don't call me baby
I know he shouldn't mean this much to me
You know I'm not stupid
So why don't you tell me what you've done?
You say you're a good man
So come on and prove it with action
I'm not going to kiss your cold shoulder again
I'm waiting to find out who you think you are
And what's going on in your head
You know I'm not stupid
So why don't you tell me what you've done?
You say you're a good man
So come on and end what you've begun
I'm not going to kiss your cold shoulder again
I'm dying to find out who you think you are
And what's going on in your head
In Cold Blood
Shocked quiet
In deep
I shudder while you sleep
You're not making sense
Are you finished with me yet
I truly meant to be decent
In cold blood I wouldn't have
In cold blood I wouldn't have
My heart's not cold cos it beats for you
But I can't stand to be this monster
In cold blood I wouldn't
My dear absentee
This won't end well for me
You're happy with them
So I stand alone again
Still he kissed me
So carefully
Mouth tight with deceit
In cold blood I wouldn't have
In cold blood I wouldn't have
My heart's not cold cos it beats for you
But I can't stand to be this monster
In cold blood I wouldn't
In cold blood I wouldn't have
In cold blood I wouldn't
My heart's not cold cos it beats for you
But there's no happy ever after
In cold blood I wouldn't
Alone
All my days
My spirit is willing my flesh is weak
Unsteady on my feet
Don't take care of me
We're all always, always all alone
We're all always, always all alone
All my days
My delicate suffering's mine to keep
When I'm empty come - fill me
We throw insults the world throws stones
We're all always, always all alone
We're all always, always all alone
Oh - don't you remember?
We were born from dust
Oh - and we'll go back there
But we've got each other first
We're all always, always all alone
We're all always, always all alone
Paper Thin
I'm in the wars - I blame the bad weather
A flood of tears, I drift without a shelter
Reduce my world to things that I have worked for
I lick my wounds and wonder if I can mend the year
Awake
No sleep til I make
Black dreams dissipate
Ooh I crashed down, I burned out along the way
I'm a sunny day with threat of thunder, threat of rain
Ooh I crashed down, I came round to devastate
Anyway I let my skin grow paper thin
And that's okay
I heal myself with friends and conversation
Some time alone, a sober celebration
I was told I feel things too much
But I know it hurts to be touched
Ooh I crashed down, I burned out along the way
I'm a sunny day with threat of thunder, threat of rain
Ooh I crashed down, I came round to devastate
Anyway I let my skin grow paper thin
And that's okay
Cos I see stars
And I small roses (on good days)
All this is ours
Let's do amazing things with good hearts
Ooh I crashed down, I burned out along the way
I'm a sunny day with threat of thunder, threat of rain
Ooh I crashed down, I came round to devastate
Anyway I let my skin grow paper thin, paper thin
I'm a sunny day with threat of thunder, threat of rain
I'm in the wars, I blame the bad weather
Please Don't
If your motor unravels
Then we'll mend the machine
If the world disappoints you
Then we'll make a new dream
Please don't leave me yet
We're all aching, full of regret
We're all walking wounds
Brains and bodies are bruised
So please don't leave me yet
If your thoughts overwhelm you
Then I'll make it all right
If you're scared of the shadows
Then I'll stay through the night
Please don't leave me yet
We're all aching, full of regret
We're all walking wounds
Brains and bodies are bruised
Let me take care of you
Please don't leave me yet
Please don't leave me yet
We're all walking wounds
Brains and bodies are bruised
Still I'll take care of you
Promise me you'll stay here
While I travel in your footsteps around the world
Cos someday I'll grow a new heart for you to hold
That means you're not allowed to go
Please don't leave me yet
Stargazing
Now every morning when I wake
I roll around and list the reasons my heart aches
You never felt like a mistake
But you're less than a friend, less than a friend
Less than a friend, less than a friend
We went stargazing
You thought I was amazing
You said we had time
You don't know you lie
Now you're a stranger
I guess I never knew you
You widened my sky
But now my heart's run dry
Done with disaster, that's all
I don't believe that I'll survive this man sized storm
I don't believe anybody any more
Cos you're less than a friend, less than a friend
Less than a friend, less than a friend
Less than a friend, less than a friend
We went stargazing
You thought I was amazing
You said we had time
You don't know you lie
Now you're a stranger
I guess I never knew you
You widened my sky
But now my heart's run dry
We went stargazing
You thought I was amazing
You said we had time
You let your body lie
Now you're a stranger
I guess I never knew you
You widened my sky
Now just let it die
Let it die
Now just let it die
Slow Down Sunshine
Slow down sunshine
Don't let the truth cloud your mind
Electricity is fading quietly
Blood flow
Eat me whole
Leave me cold
Stake my life
All my expensive time
Is yours to play with as you like
My heart will shake and shiver
Ohhhhhhhh
Slow down sunshine
Too many ventricles to untie
We're vampires it's true
But you'll find another host to suck you
Blood flow
Eat me whole
Leave me cold
Stake my life
All my expensive time
Is yours to play with as you like
My heart will shake and shiver
Ohhhhhhhh
Slow love, leave me cold
Crush my body, drink my blood
Stake my life
All my expensive time
Is yours to play with as you like
My heart will shake my heart will
Stake my life
All my expensive time
Is yours to play with as you like
My heart will shake my heart will shake
Ohhhhhhhh
5000 Miles
5000 miles spent at sea
Braving the world wild and free
Guardian swallow watch over me
5000 miles, 5000 goodbyes
5000 miles, 5000 miles, 5000 miles
5000 goodbyes
The river broke reality
The parts of my anatomy
Enjoy the swim, survive the frost
Not all who wander will get lost
Summer days are stalling, stalling
Frozen fingers calling, calling
5000 miles spent at sea
Braving the world wild and free
Guardian swallow watch over me
5000 miles, 5000 goodbyes
Throw messages in to the sea
We look for love, for loyalty
A waste of ink, my bag stays packed
All the bottles come right back
Oh summer days are stalling, stalling
Frozen fingers calling, calling
5000 miles spent at sea
Braving the world wild and free
Guardian swallow watch over me
5000 miles, 5000 goodbyes
Time To Be Unkind
I followed you too far
Gold arrows in my heart
I'm sure you don't listen
Leave go - this shattered piece lies bleeding on my sleeve
Now you ask me if I won't come back
So give me a sign I can decline
Darling it's time to be unkind
There's too much to take
We have to break
Darling it's time to be unkind
At least we both admit
These words I have to spit
You don't say anything
So now we call defeat
I sleep in other sheets
You're so happy now I don't come back
So give me a sign I can decline
Darling it's time to be unkind
There's too much to take
We have to break
Darling it's time to be unkind
I asked you to listen
You told me you would
You promised that all of my plans and my dreams would happen with you
I told you I'd wait
But not forever
Now your long silence proves you a liar
So give me a sign I can decline
Darling it's time to be unkind
There's too much to take
We have to break
Darling it's time to be unkind
Turning To You
To fall but not to break
To follow but not to take
It's too late
I'm delicate
To be brave to protect my heart
Working out what I can discard
It's too late
To hesitate
When all of these bad dreams have gone
And all of my darkness is overcome
Nothing will keep me from
Turning to you
I'm undone but you want me now
Before I sink to the bottom
Before I'm lost to you
Before I fall
It's too late
Don't hesitate
When all of these bad dreams have gone
And all of my darkness is overcome
Nothing will keep me from
It won't be forever
Cos I don't want to live without your love
When all of these bad dreams have gone
And all of my darkness is overcome
Nothing will keep me from you
It won't be forever
Cos I don't want to live without your love
The Best
Sweetheart
Drink up
Be all you dreamed of
Goodbye is not bad
There's more than what we had
Sweetheart
You're not mine
And that is just fine
Don't call, don't write
I won't be ready to reply
I wish you the best
But there's nothing left
For me
Goodnight sweet friend
There's nothing to fear
I'll keep a piece
Our memories used to be so sweet
I wish you the best
But there's nothing left
For me
I wish you the best
Forever and ever and ever and ever
And ever and ever the best
I wish you the best
But there's nothing left
I wish you the best
Forever and ever and ever and ever
And ever and ever the best
Sweetheart
Drink up
Be all you dreamed of